This bar is telling people to "ask for Angela" and it's a genius plan to help people get out of bad dates safely and quickly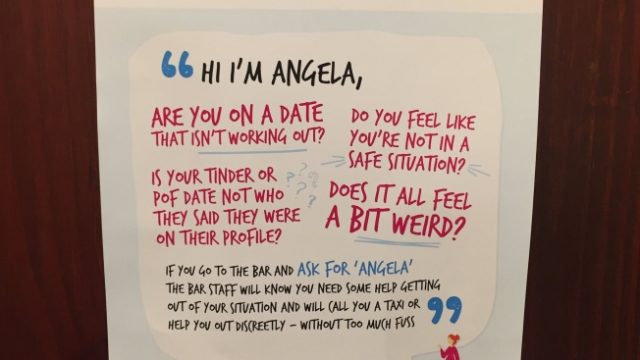 Sexual violence and abuse happens more than we realize, and the occurrence can spike among those on a "blind" or first date with someone they've never met. This is why we're all about this poster at a Lincolnshire bar's bathroom for women. The sign advocates those feeling unsettled go ask a staff member for "Angela." The name, of course, is a secret code word that will send a signal that help is needed without ever saying another word. The genius idea came from an England county council and, considering how many people go on dates with strangers these days, we think it's absolutely brilliant.
The poster reads:
"Are you on a date that isn't working out? Is your Tinder or POF [Plenty of Fish] date not who they said they were on their profile? Do you feel like you're not in a safe situation? Does it all feel a bit weird? If you go to the bar and ask for 'Angela,' the bar staff will know you need help getting out of your situation and will call you a taxi or help you out discreetly—without too much fuss."
If you've ever been on an uncomfortable date where things felt off but you weren't sure how to get out of it (and sadly, way too many of us know this feeling), you know that this is brilliant. This discreet idea may help prevent a future attack without causing a scene, and if it helps even one person escape a shady sitch' unharmed, it's worth it. A substance misuse and sexual violence and abuse strategy coordinator for Lincolnshire's County Council, Hayley Child, had this to say about the potentially life-saving campaign:
"The 'Ask for Angela' posters are part of our wider #NoMore campaign which aims to promote a culture change in relation to sexual violence and abuse, promote services in Lincolnshire and empower victims to make a decision on whether to report incidents. Sexual abuse and violence is a national issue, and all councils have a responsibility to tackle abuse. This was Lincolnshire Community Safety Partnership's first awareness raising campaign on this issue."
We certainly hope it works and that eventually, others will get behind the premise (albeit with a different code name now that it's public). If this poster and campaign saves one women from sexual assault, it's worth the effort.