10 Asian and Pacific Islander Women You Should Have Learned About in History Class
From the first female monarch to the first female president of the Philippines.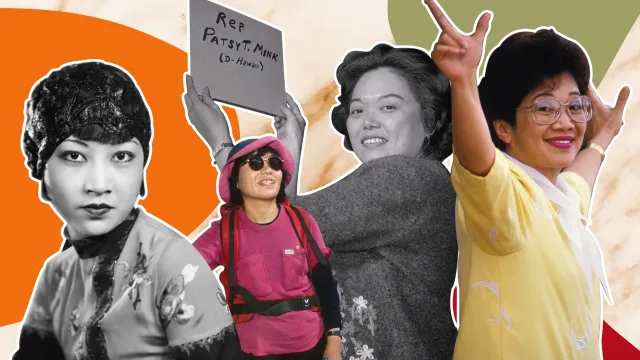 May is Asian Pacific American Heritage Month.
If you lost it over the 2018 film Crazy Rich Asians, you're not alone. The contemporary romantic comedy, based on a global bestselling novel, crushed it at the box office, becoming the highest-grossing rom-com in the United States in the last 10 years. And you don't have to be crazy, rich, or Asian to understand why. The flick, which was the first major Hollywood studio film of its kind to feature a majority-Asian cast in 25 years, serving up fun, feels, and family in ways unique and universal. And it made us wish stories about Asian people—and especially Asian and Pacific Islander women—were told more often.
Because the stories of Asian and Pacific Islander women need to be told. And we're not just talking about the funny, fictitious ones that make hundreds of millions of dollars at the movie theater box office. Or the award-winning TV spy dramas like Killing Eve. (P.S. we love you, Sandra Oh.) We want to know the true-life stories of Asian and Pacific Islander history-making women, too. Imagine a big-budget biopic about U.S. Open champ Naomi Osaka. Or a limited HBO series about the path-breaking political career of United States Sen. Tammy Duckworth.
That's why in honor of Asian Pacific American Heritage Month, we're sharing the real stories of Asian and Pacific Islander women who made history and changed the world.
And who knows? Maybe the extraordinary stories of these remarkable women will inspire the next best-selling book, record-breaking motion picture, or must-see TV series.
1. Queen Liliuokalani (1838-1917)
Adding historical context to the phrase "Yas Kween," Queen Liliuokalani was the first female monarch of Hawaii and last sovereign of the Kamehameha dynasty (which ruled Hawaii from 1810) after its U.S. annex in 1898. She temporarily gave up her throne to the U.S.—with the hope that it would eventually be restored—to prevent a violent backlash against the Hawaiian people. But independence was never regained. Along with this, Liliuokalani also endured house arrest for a year following accusations of counter-revolt.
In addition to her role as a queen, Liliuokalani was a celebrated musician and composer. Her most well-known piece is titled "Aloha Oe," which has been covered by the likes of Johnny Cash and serves as a musical staple on the island.
2. Sarojini Naidu (1879-1949)
A child prodigy and poet, Sarojini Naidu became the first Indian woman president of the India National Congress and the first female governor of the Indian state of Uttar Pradesh. Nicknamed the "Nightingale of India" due to her music and poetry, Naidu started college at the age of 12 and graduated by age 19. She then married her college bae—engaging in an inter-caste marriage at a time when it was considered a crime.
Naidu also played a notable role in the Indian Independence Movement, which sought to separate India from British rule. She lectured on issues surrounding emancipation, female empowerment, and social welfare.
3. Grace Lee Boggs (1915-2015)
It was Grace Lee Boggs who wrote:
"Women's leadership in the public sphere didn't come from the White House or from CEOs. It came only after millions of women came together in small consciousness-raising groups to share stories of our 'second sex' lives."
Considered the eldest human rights activist of our time, Boggs was a philosopher who fought for women's rights, environmental justice, Black power (alongside Angela Davis and Malcolm X), and labor rights. Married to African American activist James Boggs, she wrote a series of books and was involved in many community efforts that ranged from advocating against poor living conditions in Chicago to creating charter schools and youth programs in Detroit.
4. Corazon Aquino (1933-2009)
Having served as the first female president of the Philippines, Corazon Aquino's leadership stemmed from opposition to then-dictator Ferdinand Marcos. She was married to Benigno Simeon Aquino Jr., a politician whose heavy opposition to Marcos resulted in his imprisonment and the couple's eventual exile to the States. Aquino Jr. was later assassinated upon returning to the Philippines in 1983, which spring-boarded Corazon's fight against Marcos.
While her presidency was tumultuous (she endured seven coup attempts and her economic policies were inept for a country plagued with poverty), she was responsible for restoring democracy in the Philippines after years of authoritarian rule. And for a "housewife" who came into a role that she didn't really want, that's pretty damn impressive.
5. Anna May Wong (1905-1961)
Considered the first Chinese American film star, Anna May Wong gained international recognition through dozens of movie roles in Hollywood and Europe. Her first role was in a silent film, The Toll of the Sea, in the 1920s at the age of 17. She was considered a trailblazer, taking on typecast roles of the "exotic oriental" during a time of florid racism in Hollywood when it was commonplace for white actors to don yellow face and squinted eyes for Asian roles.
Despite possessing a magnitude of talent, being wildly articulate, and working alongside big names, she still fell victim to the perils of working in a white-washed industry—the most notable instance being her exclusion from the film The Good Earth, a drama about Chinese farmers. The leads were instead portrayed by actors of German and American descent.
6. The Trung Sisters (unknown-43 CE)
The Trung sisters, Trung Trac and Trung Nhi, were freedom fighters who led a rebellion against the Chinese Han dynasty with a group consisting mostly of women fighters in 40 C.E., briefly establishing a sovereign state. A popular myth states that they drowned themselves after defeat to maintain honor, while others say they floated into the clouds. It's an oddly poetic theory.
7. Maya Lin (1959-present)
Maya Lin is a designer and architect who, at the age of 21, designed the Vietnam Veterans Memorial in Washington, D.C. NBD. Entering a competition that included more than 1,400 entries—and receiving a pesky B for it in her class at Yale—she won the design contest despite not being a trained architect. Her design was surrounded by much controversy at the time, however, as congressmen blasted it as a "political statement of shame and dishonor".
Lin also designed the Civil Rights Memorial in Alabama and the Museum of Chinese in America in New York. Adding to her numerous accolades, Lin received a Presidential Medal of Freedom from Barack Obama in 2016.
8. Junko Tabei (1939-2016)
As a Japanese mountaineer, Junko Tabei was the first woman to reach the top of Mount Everest in 1975 and, subsequently, the first woman to climb the Seven Summits (the highest peaks of the seven continents) in 1992. In a field dominated by men, this was (and remains) a remarkable triumph for a woman, especially during a time when women were being told they should be "raising children instead." Boy, bye.
After she graduated college with a degree in English literature, she formed an all-women climbing club. And, in addition to mountaineering, Tabei has written books, taken on environmental initiatives for sustainable climbing, and presided over preservation organizations.
9. Patsy Takemoto Mink (1927-2002)
Born in 1927 in Paia, Hawaii, Patsy Takemoto Mink made history with a number of "firsts." First Japanese American to practice law in Hawaii. First woman of color—and the first Asian American woman—elected to the United States House of Representatives. And in 1972, Mink became the first Asian American to run for the Democratic nomination for president. Can you say trailblazer?
Mink's long list of groundbreaking achievements doesn't end there. A tireless advocate for women's rights, Mink made it her mission in Congress to craft and champion legislation that opened doors for more women to earn an education and join the workforce. In 1972, Mink co-authored and helped pass Title IX, a landmark piece of legislation that expanded educational opportunities for women and changed the game for women in sports, too. Just two years later, Mink facilitated the passage of the Women's Educational Equity Act (WEEA), which provided federal funding for practical resources such as training and materials to enable women and girls to succeed in the educational system.
Mink died in 2002, but the Patsy Takemoto Mink Education Foundation, established in her memory in 2003, aims to carry on some of Mink's most ardent commitments, including "educational access, opportunity, and equity for low-income women" and educational enrichment for children.
Mink was posthumously honored with the Presidential Medal of Freedom in 2014.
10. Dr. Chien-Shiung Wu (1912-1997)
Often called the "First Lady of Physics" and the "Chinese Marie Curie," Dr. Chien-Shiung Wu made a name for herself as one of history's most renowned physicists. Born in China in 1912, Wu received her Ph.D. from the University of California, Berkley in 1940. After teaching physics for a couple of years at Princeton University and Smith College, Wu joined the Manhattan Project at Columbia University in New York, a nuclear research program that helped the United States develop the atomic bomb during World War II.
After the war, Wu stayed on at Columbia and became the foremost authority on beta decay (aka radioactive disintegration). Then, in 1956, two of Wu's male colleagues asked her help in testing a theory they came up with that challenged the Law of Conservation of Parity during beta decay.
Wu's innovative experiments proved the men's theory, and they won the Nobel Prize in Physics in 1957. Well, the men did, anyway. Sadly, similar to the experiences of many extraordinary women in science before her (and still today), Wu's role in this scientific breakthrough went unacknowledged and uncredited.
But despite the science community's failure to recognize her considerable talents as Nobel Prize-winning, Wu continued to make cutting-edge contributions to the field of physics throughout her career. She even won some prizes of her own, including the National Medal of Science, the Comstock Prize, and 1978's Wolf Prize in Physics. And today, her book Beta Decay, written in 1956, remains nuclear physicists' go-to reference guide on the subject.