The Best Asian-Owned Beauty Brands to Shop Today, Tomorrow, and Forever
There are so many things the beauty industry needs to thank the Asian community for. For starters, there's K-beauty, gua sha, celeb-endorsed snail extract, and wellness-as-beauty that stems from Ayurveda. Additionally, Asian founders have changed the industry by introducing the West to their cultures and sharing their expertise through their products and educational material on their brands' sites. It goes without saying that they deserve to be celebrated, highlighted, and supported—always.
Here, find 39 of our favorite Asian-owned beauty brands. From K-beauty cult classics you've seen all over Instagram and custom fit stick-on gel nails to Ayurvedic-inspired beauty products and clean fragrances, here are the very best.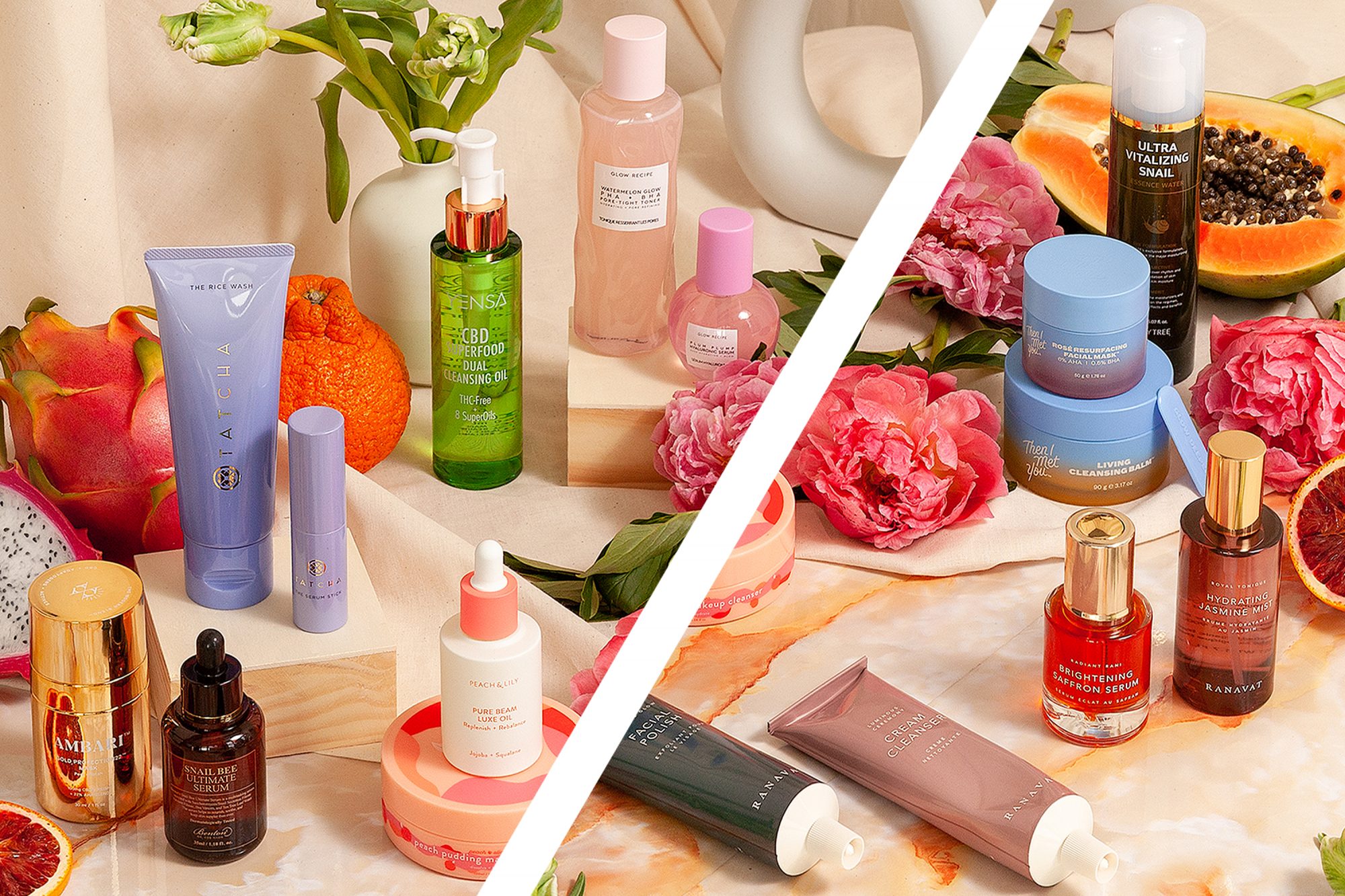 Tatcha: Vicky Tsai launched this luxury skincare brand in 2009 as a love letter to Japan and its traditions. Many of its products have ingredients that are popular in J-beauty, such as rice water and Japanese indigo, and are all suitable for sensitive skin. Discover more at tatcha.com.
Glow Recipe: The fun and Insta-worthy products you've seen all over Instagram are loved by everyone from Lili Reinhart to your BFF (probably). It was founded by Sarah Lee and Christine Chang in 2014, went on to be on Shark Tank, and is now found at national retailers such as Sephora and glowrecipe.com.
Then I Met You: After launching the wildly successful K-beauty e-commerce site sokoglam.com, Charlotte Cho founded her own skincare brand. It was inspired by the concept of jeong—a deep feeling of empathy and affection that one can develop for places, people, and things. Discover its products at thenimetyou.com.
Lapcos: Looking for a sheet mask? Lapcos has plenty. Co-founder Jennifer Lee grew up learning about the importance of face masks, and the ones from the brand hold enough serum that you can enjoy the benefits on your face, neck, and décolletage. Since then, the brand has expanded to offer all types of skincare. Find out more at lapcosusa.com.
Ambari: Founder Nisha Grewal grew up in an Indo-Canadian home accustomed to a life of natural remedies and cultural rituals. Fast forward to adulthood and the launch of Ambari, which uses a powerful combination of adaptogens and high concentrations of acids for smooth, bright, and even-toned skin. Learn more at ambaribeauty.com.
Neogen: K-beauty enthusiasts know that Neogen's where it's at. Its skincare is formulated with powerful yet gentle ingredients that have made it a cult favorite brand. Discover its cleansers, peels, masks, and more at neogenlab.us.
YINA: Founded by two Asian American female licensed practitioners of Traditional Chinese Medicine (TCM), YINA provides holistic solutions to protect, nourish and rejuvenate the body and mind via personalized rituals. The brand not only provides products but also educates consumers on the practices of gua sha and TCM through workshops and a blog. Find out more at yina.co.
Dew Mighty: Ever heard of a solid serum? You're about to. Tiffany Buzzatto, who has a Taiwanese background, founded the brand to provide high quality and super eco-friendly beauty—starting with its solid serum that can be used up to 28 times and comes in compostable packaging and reusable containers. Buy yours at dewmighty.com.
Ranavat: Wellness enthusiasts are likely familiar with adaptogens, but Ranavat has taken the holistic practice and made an adaptogenic skincare line inspired by the beauty rituals of Indian royalty. The founder, Michelle Ranavat, combined her pharmaceutical background with her love for botanical alchemy to create this effective and artistic brand. Discover its tools, serums, creams, and more at ranavat.com.
Good Light: David Yi, the founder of the men's grooming site Very Good Light, launched a skincare brand to show that beauty goes beyond the binary. It debuted in 2020 and, so far, has three products formulated for sensitive skin types. Look them up at goodlight.world.   
ONE/SIZE: Patrick Starrr, the makeup artist, podcast host, entrepreneur extraordinaire, and self-described "fierce Filipino" launched his makeup line in 2020 to drive kindness and individuality through artistry. Learn more about the brand at onesizebeauty.com.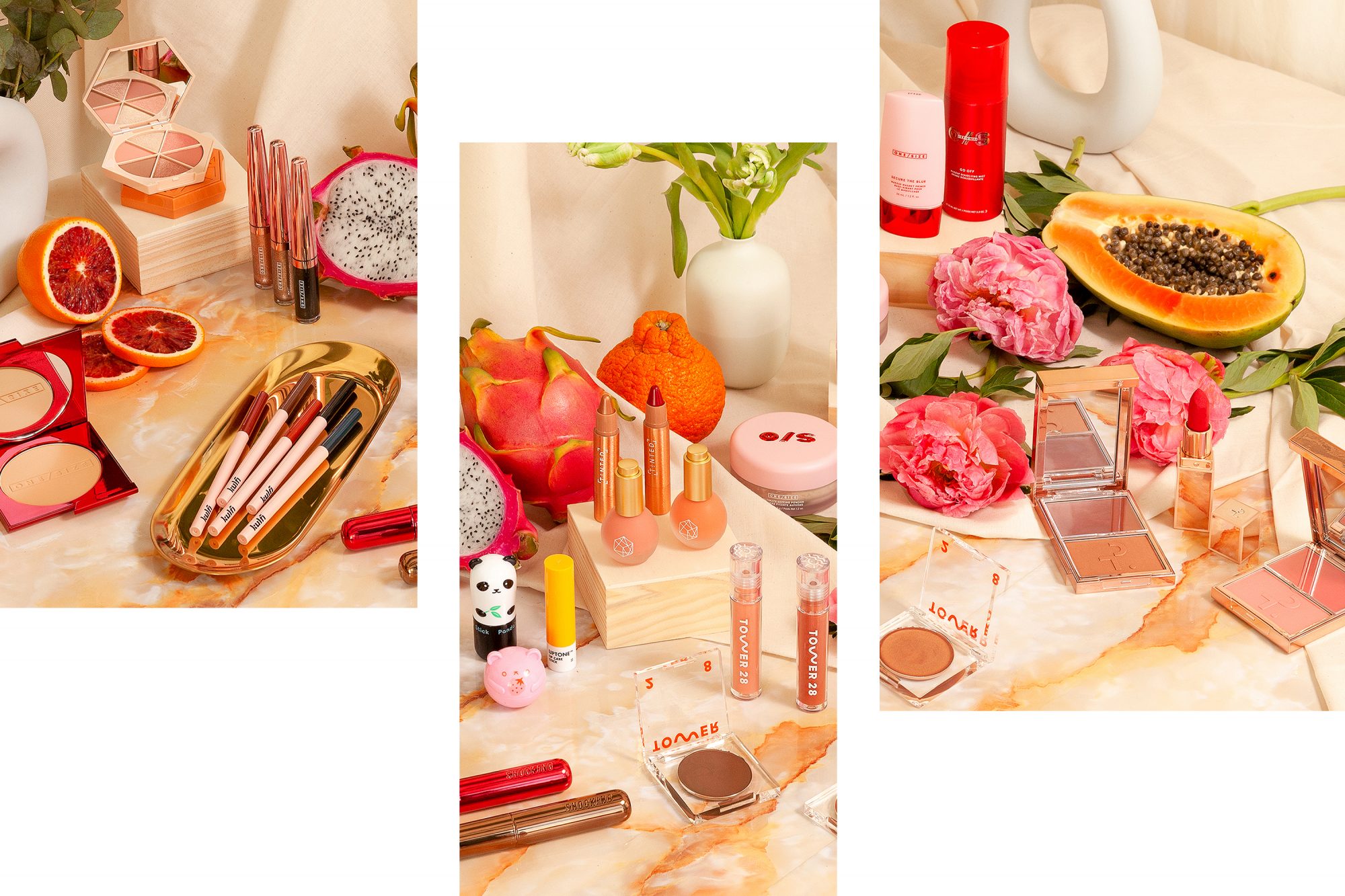 LIVE TINTED: Deepic Mutyala went viral in 2015 when she uploaded a YouTube tutorial on how to cover dark circles with red lipstick. Going off its success, she launched her brand with Huesticks to color-correct. Now, the company offers a slew of products—discover them all at livetinted.com.
Tower 28: With sensitive skin and clean ingredients top of mind, Amy Liu launched this makeup and cosmetics brand in 2019 and it became a nearly instant HG-favorite. Find your next bronzer, lip gloss, and more at tower28beauty.com.
Kulfi: Priyanka Ganjoo launched her makeup brand with the purpose of representing and proudly sharing the voices of the South Asian community within the beauty industry. Shop its colorful kajal eyeliners and headbands at kulfibeauty.com.
EM COSMETICS: Michelle Phan has been an influential beauty vlogger since 2007, and in 2015, she decided to take her expertise further by launching her cosmetics brand. Their products are touted as modern essentials, and the beautifully colorful packaging will instantly elevate any shelfie. Find your next go-to makeup products at emcosmetics.com.
Patrick Ta: Founded by Vietnamese American celebrity makeup artist Patrick Ta, this brand is dedicated to the women in his life. Per the website, "Growing up, I knew I was gay but wasn't out to the world. Women like my mom, my sister, and my best friends were the ones who allowed me to by myself. I wanted to create makeup that made women feel confident and beautiful in their own skin, just as women have made me feel." The brand boasts a slew of award-winning products, and you can explore the whole collection at patrickta.com.
JOON: Siblings Shiva and Kayvon Tavakoli launched Joon as an homage to their Persian roots and the ingredients commonly found and used there, such as saffron and rose fig. The brand's signature elixir oil, saffron shampoo and conditioner marry ancient tradition and modern science. Give your hair the treat of Joon by visiting joonhaircare.com.
NatureLab.Tokyo: Never have you ever seen such fun-shaped products. Apart from looking as if they were taken out of a science lab, these plant-based hair products were created by Rosa Takagi with clinically proven hair-healthy ingredients that are also clean and cruelty-free. Discover collections, such as the Sakura volume with Japanese cherry blossom extract, at naturelab.com. 
Mydentity: In between filming Bling Empire, recording music, and styling A-listers' hair, Guy Tang found the time to launch his namesake brand—and it's finally available at Ulta! Find shimmer sprays, hair-sculpting sprays, color-securing shampoos, and more at ulta.com.
Insert Name Here: Calling all hair extension users! INH, which was co-founded by Sharon Pak and Jordyn Wynn, has ponytail extensions that give Ariana Grande a run for her money. It offers hot tools, hair accessories, hair care products, and other types of extensions, too. If you're looking to change up your hairstyle and try a new look, run, don't walk, to inhhair.com.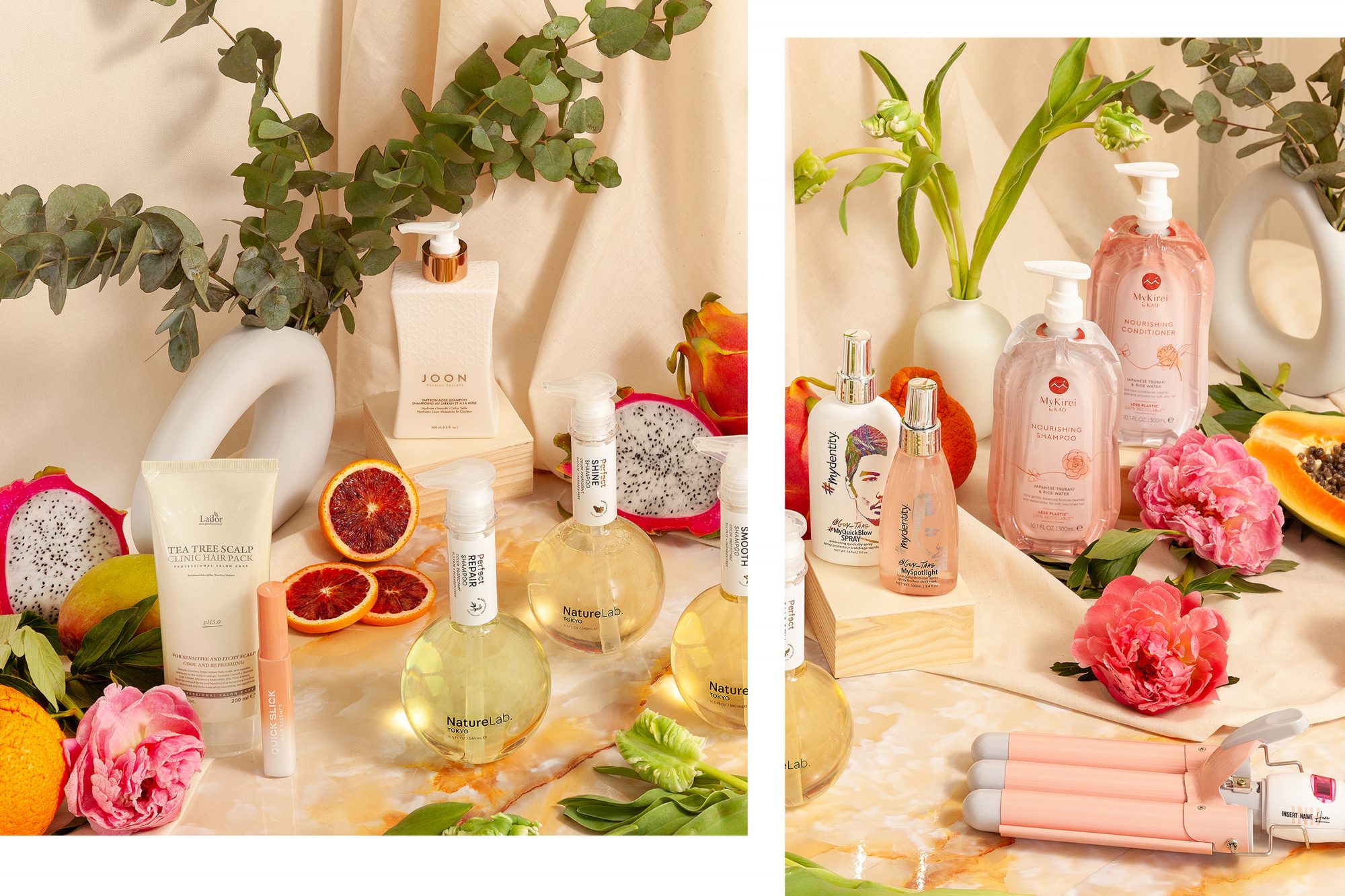 MyKirei by Kao: Inspired by the Japanese philosophy of Kirei, which promotes cleanliness and sustainability, this brand believes in J-beauty traditions and an eco-conscious mindset. It reduces the amount of packaging needed per product, the packaging is reusable, and all the nourishing products have refill options to reduce waste. Discover the brand at mykirei.com.
Cocokind: Former Wall Street investment banker Priscilla Tsai always had sensitive skin and looked for simple, clean products to keep her face healthy. Enter: cocokind. Now, the brand has a slew of products and a cult following. To learn more about the hype, visit cocokind.com.
SLMD Skincare: Dermatologist Sandra Lee, aka Dr. Pimple Popper, is no stranger to the world of acne. After her Instagram account went viral for showing videos of extractions, she went on to have a reality TV show and launch her skincare line to help others achieve and maintain clear, healthy skin. Find out more at slmdskincare.com.  
Taza Ayurveda: Co-founder Divya Viswanathan grew up in India immersed in her culture's practices and later teamed up with her business school friend, Amy Engel, to create this brand. It's dedicated to authentically bringing ancient Ayurvedic science to life and pledges a portion of all profits to Ayurvedic hospitals to cover the treatment for the less fortunate. Learn more at tazaayurveda.com.
Glamnetic: Ann McFerran immigrated to the U.S. from Thailand at 7-years-old, and at 26, she launched her now wildly popular beauty brand. It specializes in faux lashes and nails, and the Internet is obsessed. Read more about it at glamnetic.com.
JINSOON: Founder Jin Soon immigrated from South Korea with $400 to her name, and now has one of the most impressive nail careers in the industry. Catch her backstage at Fashion Week shows (post-pandemic, of course), listed in the credits of some of the world's most prestigious magazines, at one of her many eponymous nail salons, or while shopping for nail products. Shop her long-lasting nail polish formulas and more at jinsoon.com. 
Emilie Heathe: Korean American founder Emily Rudman kicked the ball out of the park with her stunningly elegant nail polishes. Additionally, the brand carries jewelry and lip and brow products; you can find them all at emilieheathe.com.
Juara: Four 30-year-old friends—Metta Murdaya, Yoshiko Roth-Hidalgo, Tami Chuang, and Jill Sung—began work on Juara by making skincare products in their kitchens as a way to bring Indonesian-inspired Jamu herbal medicine into their daily beauty routines. A lot has changed since then, as Juara now has a worldwide distribution and high quality, certainly not made in their kitchen products. Find them all at juaraskincare.com. 
ManiMe: Everybody and their mother knows about nail polish stick-ons, but what makes ManiMe so innovative is the technology it uses to make ones that perfectly fit your nails. The custom fit stick-ons are achieved by taking a 3D scan of your nails with your smartphone, choosing your design from their selection, placing your order, then simply sticking them onto your clean nails once they arrive. Intrigued? Visit manime.co to learn more.
Superegg: Launched by esthetician Erica Choi in 2020, it's inspired by the skincare benefits of eggs, and reimagined with vegan, plant-based ingredients. The packaging is sophisticated and minimalist, making it perfect for your shelfies, too. Learn more about the brand's innovations at supperegg.nyc.  
Savor Beauty: Angela Jia Kim was inspired by multi-generational Korean beauty rituals when she conceptualized this brand. All the products are handmade by women in small batches, so if you shop here, you're supporting a female-run and operated brand. Get its products at savorbeauty.com.
Peach & Lily: Harvard Business School graduate Alicia Yoon set out to launch her brand in 2012. As a licensed esthetician who had lived with eczema her whole life, she paid special attention to creating effective yet super gentle products that will work well on all skin types. Learn more at peachandlily.com. 
CTZN Cosmetics: Founded by Pakistani sister-trio Aleena, Aleezeh, and Naseeha Khan, this makeup brand focuses on creating inclusive, gender-neutral cosmetics for people of every skin tone. Find your new, go-to nude lipstick and more at ctzncosmetics.com. 
Ellis Brooklyn: There aren't too many Asian-owned perfume brands, but the fact that this company is one isn't nearly the most interesting thing about it. Founder Bee Shapiro launched this clean brand in 2015 (before clean fragrance was even a thing) and has since gone on to create 12 scents, which range from light and airy to sultry and deep. Find your next signature scent at ellisbrooklyn.com. 
CLE Cosmetics: Created by Lauren Jin, the brand's products are designed to promote a sense of ritual. All its skincare and makeup use non-toxic, vegan, paraben, phthalate, and cruelty-free ingredients. Shop it at clecosmetics.com.
M2U NYC: Taiwanese native Amy Chou Granger co-founded her brand after working at Kiehl's and Estée Lauder. There, she realized she wanted to launch affordable makeup that didn't sacrifice quality. Shop cream blush, eye crayons, lipsticks, and more at m2unyc.com.
Pili Ani: Founded by a Filipina mother/daughter duo, Rosalina Tan (an organic farming pioneer) and Mary Jane Tan-Ong, they took their knowledge of agriculture and applied it to skincare research and product development to build their brand. Through their work, Tan became an advocate for ethical and sustainable practices in the agriculture industry, and accidentally discovered the benefits of the pili superfood through work. Now, the brand uses pili for all its skincare products. Find them at piliani.com. 
Cellular MD: Father/daughter duo Erin Moy and Dr. Ronald Moy, M.D., founded this brand to modify skin behavior on a cellular level by combining three primary ingredients: niacinamide, circadian repair proteins, and barley-derived growth factors. Find out more at cellularmd.com.
YENSA: After wearing heavy makeup for 15 years as an actress and giving birth to her daughter, founder Jennifer Yen found herself facing troubled skin. To treat it, she followed the ancient Chinese practice "Zuo Zue Zi," which focuses on letting your body rest and heal with the help of superfoods. YENSA blends those superfoods and Chinese traditions in the creation of its products, from cleansers to polishing face masks. Learn more at yensa.com.