An Asian Hollywood newcomer is starring in "Crazy Rich Asians" with Constance Wu, and we're fired up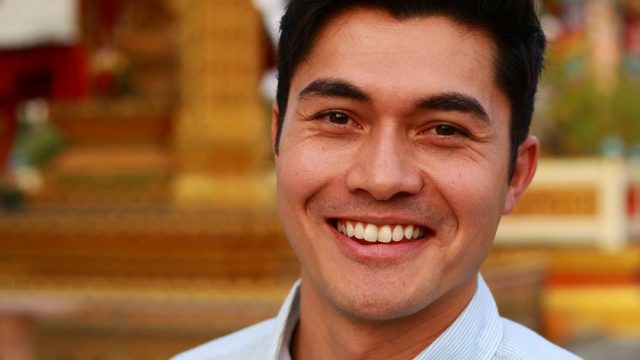 When we found out Fresh Off the Boat star, activist, and general badass Constance Wu would star in the movie Crazy Rich Asians, we jumped for joy and thought things in Hollywood couldn't get any better. How wrong we were, because the male lead has just been cast, and he's an Asian Hollywood newcomer who has never before starred in a TV show or a movie. You're probably wondering how on earth he got the role. Well, let us tell you the story.
The director of Crazy Rich Asians, John Chu, put out a video in January and used the hashtag #CrazyRichAsiansCasting in an attempt to find some talented Asians to star in his adaptation of the book of the same name by Kevin Kwan.
https://www.youtube.com/watch?v=kSg21l1sWA0?feature=oembed
"I know how much undiscovered talent there is in the world, so we are shouting out to all you aspiring actors and cool personalities with hidden talents," Chu said.
So awesome, right? Especially considering the fact that Asians are wildly underrepresented in Hollywood. Crazy Rich Asians is going to feature an all-Asian cast, which is the first time we've seen this in a v long time, and Chu wants to make sure there's room for newcomers.
Enter Henry Golding. He's Malaysian and English, and after growing up in London, he's now living in Singapore. He has experience hosting TV travel shows, but Crazy Rich Asians will be his first feature film, which makes Golding an emerging star to watch out for. We're so excited to see his career take off on the big screen, particularly knowing he'll be starring alongside Asian powerhouses Constance Wu and Michelle Yeoh (from Crouching Tiger, Hidden Dragon).
We don't know exactly how Golding was discovered, but we do know he's excited to be the lead role for Crazy Rich Asians. He expressed his gratitude and anticipation on Instagram.
"An absolute dream come true with many people to thank...it truly is a gift to have the chance to work with [Constance Woo and Michelle Yeoh] on this exciting new journey. Literally bursting at the seams in anticipation!" Golding wrote.
We're bursting at the seams, too, Henry! We'll be in the front row to see Crazy Rich Asians!