We're burying our noses in books by these 6 Asian Pacific American writers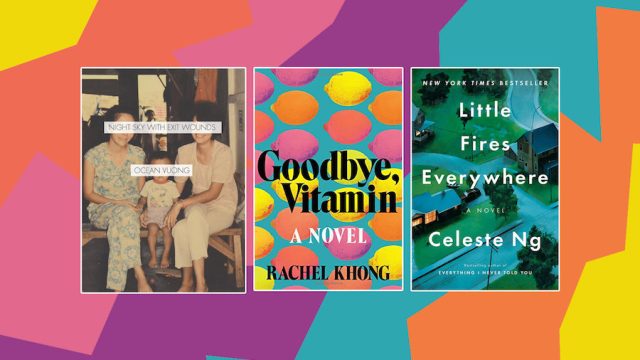 May is Asian Pacific American Heritage Month.
Most readers probably recognize the eminent writers in Asian Pacific American literature, like Maxine Hong Kingston and Amy Tan. These prolific authors fuse Asian identity into their work by touching upon themes of tradition and displacement. There's no doubt that The Woman Warrior and The Joy Luck Club are seminal works in Asian literature — but these books aren't the only Asian American works that you should know.
In recent years, Asian Pacific American writers have shaken up the publishing industry, which has been criticized for being predominantly white. Now more than ever, writers of Asian descent are telling stories that we've never heard before, from spy novels to mystery thrillers. They're penning specific stories that both ground in and depart from Asian identity. From Celeste Ng to Ocean Vuong, here are six Asian American writers who should be at the top of your reading list.
1Rachel Khong
Rachel Khong previously served as the editor of the food magazine Lucky Peach. Her debut novel Goodbye, Vitamin tells the story of a woman who returns home to care for her Alzheimer's-afflicted father. In addition to writing, Khong is the founder of The Ruby, a work and gathering space for creative Bay Area women.
2Viet Thanh Nguyen
Viet Thanh Nguyen fled to the United States with his family after the fall of Saigon in 1975. His debut book The Sympathizer won the 2016 Pulitzer Prize for Fiction. Before its success, the manuscript faced rejection from 13 of 14 publishers. In the novel, a North Vietnamese sleeper agent in the South Vietnamese army is exiled to the United States, where he resides in a South Vietnamese community. Readers may also know Nguyen for his short story collection, The Refugees, as well as his work in Asian American studies. Nguyen currently teaches literature at USC.
https://twitter.com/udfredirect/status/976915502298779653
3Celeste Ng
Celeste Ng grew up in Shaker Heights, Ohio, born to immigrants from Hong Kong. Her novel Everything I Never Told You draws from her personal life as well as her encounters with racism. It takes place in 1970s Ohio and depicts a mixed-race Chinese American family whose daughter is found drowned in a lake. Her second book, Little Fires Everywhere, has been considered one of the best books in 2017. Hulu will soon adapt it into an eight-episode series starring Reese Witherspoon and Kerry Washington.
https://www.instagram.com/p/BU2LECZlrbK
4Jhumpa Lahiri
Jhumpa Lahiri shows the lives of Bengali Indian immigrants and how they deal with different cultural values. Her very first short story collection, Interpreter of Maladies, received the 2000 Pulitzer Prize for Fiction. Her latest novel, The Lowland, earned nominations for the Man Booker Prize and the National Book Award for Fiction. The family drama novel follows two brothers who leave Calcutta and grow apart until life brings them back together. Lahiri currently works as a creative writing professor at Princeton. She previously served on the President's Committee on Arts and Humanities but resigned months after President Trump was sworn into office.
https://www.instagram.com/p/BcHjSaeAlyp
5Ocean Vuong
Ocean Vuong explores queerness and masculinity in his work as an openly gay Vietnamese American poet. In Night Sky with Exit Wounds, he tenderly grapples with his family's personal history. Often connected to the Vietnam War, his poetry uncovers themes of transformation and loss. His upcoming novel, On Earth, We're Briefly Gorgeous, is about a young Vietnamese American who writes a letter to his mother who cannot read.
https://www.instagram.com/p/Bevn4c8j6u2
6Jenny Zhang
Jenny Zhang is a Brooklyn-based writer who was born in Shanghai and immigrated to New York City at age five. From 2011 to 2014, Zhang wrote essays for the young adult magazine Rookie. Published by Lena Dunham's Lenny Books, her short story collection Sour Heart revolves around young Chinese women who live in New York. Critics at The New Yorker and Slate have lauded Sour Heart as a "feminist bildungsroman."
https://www.instagram.com/p/BYHczzRBg3b
Explore works by Asian American writers this month and every month.