Ashton Kutcher opened up about his "awkward" first kiss with Mila Kunis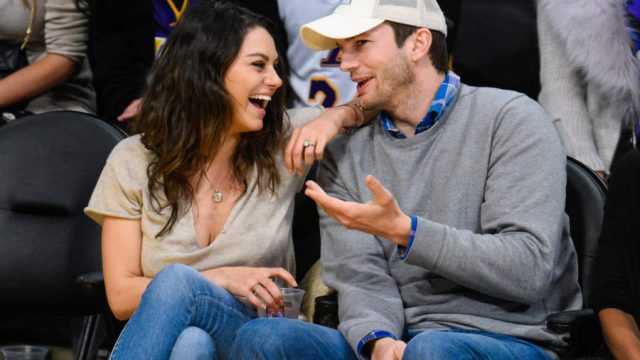 Their romance may seem written in the stars now, but back when Ashton Kutcher and Mila Kunis were just costars on That '70s Show, Ashton says things between them felt pretty awkward.
Ashton told his side of the Mila-Ashton story in a recent interview with Howard Stern, recalling his first on set kiss with Mila when she was just 14.
If you recall, the two starred as Jackie and Kelso on the hit show, and their first on-screen kiss was Mila's first real-life kiss too.
That '70s Show debuted all the way back in 1998, and at the time, Ashton considered Mila to be like his "little sister." Discussing their sweet beginnings with Stern, Ashton said, "We've known each other for 20 years. I was 19, she was like 14. I did her chemistry homework for her. I think I was her first kiss, like, on the show. We have our first kiss memorialized on a TV show!"
"It was really weird. I was like, 'Isn't this illegal?' I don't know, and it was really awkward, because I'm like a 19-year-old kid. She was 14! She was like my little sister. I wanted to make sure she was OK."
Although young Ashton didn't have feelings for young Mila just yet, he revealed that she did have a bit of a crush on him, saying,
"She has a diary from when she was a kid where she wrote, 'Oh, this guy's hot.' She thought I was cute. At first I think she thought that I was good-looking, and then shortly thereafter, I was just annoying to her, because I was like a big brother. It was like, 'He's annoying, because he's always looking out for my best interest.'"
The two remained friends until many years later, when they were both single and reconnected at a party, according to Ashton. He said,
"She's like, 'You're not ready to be in a relationship' and I'm like, 'I'm not ready to be in a relationship,'" he explained. "It was funny because I'd just done this movie called No Strings Attached and she just did a movie called Friends with Benefits and we legitimately lived out our movies, which [were] virtually the same movie."
Their second first kiss happened at the end of the evening, with Ashton adding, "I think it was pretty mutual — it was kind of obvious that things were happening."
UGH, these two!