Ashley Tisdale and Lea Michele singing Robyn's "Dancing on My Own" is a beautiful Wednesday gift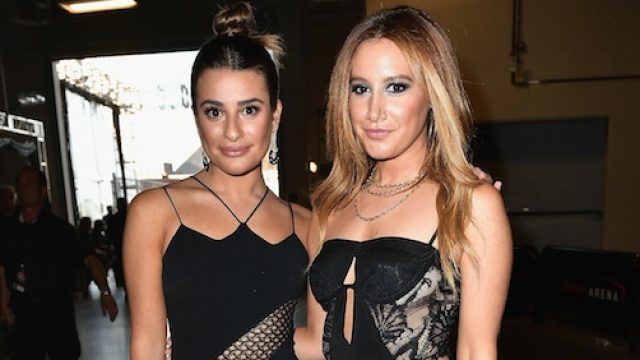 In perhaps the ultimate Glee/High School Musical crossover, close pals Ashley Tisdale and Lea Michele just recorded a duet of "Dancing On My Own" by Robyn, and it's truly beautiful.
As part of Ashley's Music Sessions on her YouTube channel, the friends joined forces to record a stripped down version of Robyn's dance-pop track, and we love their acoustic take on the 2010 party anthem. As usual, Tisdale's husband, musician Christopher French, played simple acoustic guitar as accompaniment.
The cover somehow marks the first time the singers/actresses have teamed up in song, which is kind of incredible considering they have such similar backgrounds (how many people have starred in high school musical phenomenons?). And yes, we're gonna need more music from these ladies ASAP.
https://www.youtube.com/watch?v=VyDUmqEPhnY?feature=oembed
It seems they've made fast friends in recent months after fan-girling over each other on Twitter back in May. In the video, Ashley says she loves Lea so much, that if she didn't have a husband, she'd marry her, adding, "We have known each other for a long time, but just reconnected, and now [Lea] spends every day with me and Chris."
The two spend their time taking meditation classes and getting massages, and can we get in on this BFF time, please?
The end result of their duet is a striking, pared down version of Robyn's dance-y pop ballad. We love their unique spin on the track, and would like to start a formal campaign for a joint Ashley/Lea album. We're swooning.