Ashley Graham's mom has the best attitude about cellulite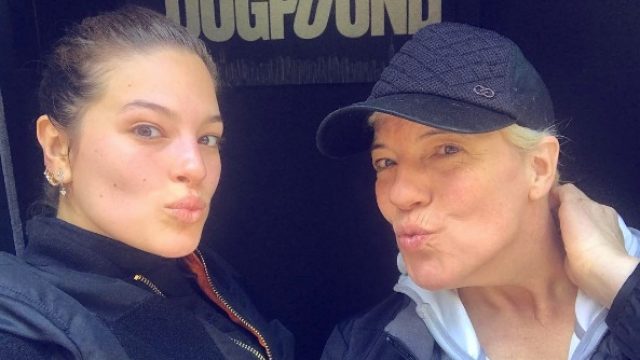 These days, Ashley Graham is on fire. She's owning her role as both a supermodel and a body-positive activist, reminding women everywhere that we are all beautiful the way we are. Her message is so important, and as it turns out, she learned from the best: Ashley Graham's mom had the best attitude about cellulite, which helped shape Ashley's perspectives early on.
In a new interview (and gorgeous naked photoshoot with V magazine), the 29-year-old opened up to actress Tracee Ellis Ross about body confidence, and revealed that it was her mom who helped her embrace her cellulite…and all we can say is, so much win!
It was Mama Graham who let Ashley know that cellulite is something most women have, and that it really isn't a big deal. She says,
"I remember my first signs of cellulite, in middle school. I remember telling my mom, 'Isn't it disgusting? It's so ugly.' She pulled her pants down and said, 'Look, I have it, too.' And I was like, 'Gasp!' She looked at me, then at it, and just rolled her eyes. She didn't tell me that it's beautiful or ugly. She just made it a nonissue. It doesn't define my worth. If women like you and me continue to preach that, then I feel like younger girls are going to grasp it and they're going to be like, 'Who cares!'"
Ashley discussed her early experiences in the modeling world as a teenager, and says that it was her mom, Linda, who helped her keep going.
"…Being told, 'You're fat,' 'You're ugly' or 'You're just not good enough,' and trying to live in these model standards, that was my normal. I think I hit bottom around 18. I was disgusted with myself and told my mom I was coming home. And she told me, 'No, you're not, because you told me that this was what you wanted and I know you're supposed to do this. It doesn't matter what you think about your body, because your body is supposed to change somebody's life.' To this day that sticks with me because I'm here today and I feel that it's okay to have cellulite."
Ashley has continued to make this her mantra — that our perceived "flaws," like cellulite, are beautiful at best, and non-issues at worst.
Thanks Ashley (and Ashley's mom!). We needed this.
Save