Ashley Benson has a "little smoke" in her new sleek bob, and it looks fire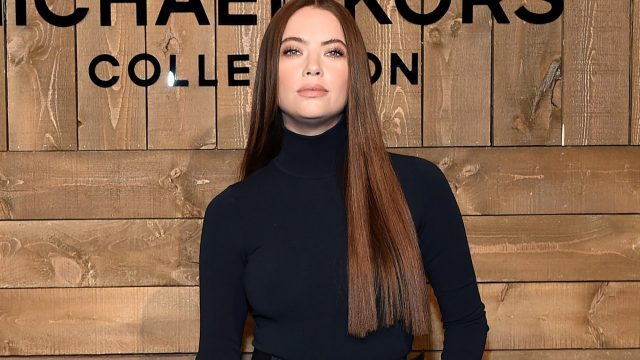 Ashley Benson has changed up her look once again. Because she's the pioneer of the clavicle bob, we're always looking to new ways she chooses to wear the cut. Now, the Spring Breakers actress just chopped off the lengths of her hair and went a bit darker, and now we're rethinking our usually light locks for spring. Perhaps dark and "smoky" is the way to go.
Benson posted a photo of her new look to Instagram on February 29th. Before the chop, she wore her lighter hair wavy to the Balmain runway show during Paris Fashion Week. However, it seems as though Benson wanted to try something more streamlined next, hence the pin-straight bob, crafted by her hairstylist Joseph Maine.
"Sleek bob with a little smoke," Benson captioned her reveal pic.
To us, it appears as though the "little smoke" is in reference to a few strands of dark gray scattered throughout the cut. It could be the overall darker, ashier hair color. Or then again, Benson could be referring to her smoky eye done by makeup artist Mia Jones.
No matter what, Benson's bob looks damn good.
Compared to her wavy locks from days prior, this new blunt bob is definitely a few shades darker. While many are thinking spring and thus lighter, looser textured hair, Benson is going an alternate route. And TBH, we're big fans.
But because Benson changes up her hairstyle on a regular basis, we can't fully expect her to wear this color all the way through the spring season. After all, we know how much she likes to experiment with tones, textures, lengths, and neons. Just two weeks ago, she was wearing waist-length extensions.
For now, though, we're stanning this sleek bob, and we're feeling inspired to work a bit of smoke into our own look—be it in our hair or on our eyes.