Ashley Benson opened up about "balding" on the Pretty Little Liars set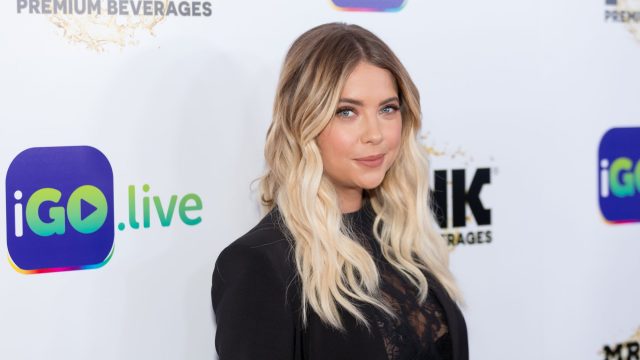 Pretty Little Liars' Hannah Marin was a heavily made-up, bleached-blonde sass queen with a wardrobe that could rival Cher Horowitz. She was likely fun for Ashley Benson to play in oh-so-many ways, but as it turns out, haircare was not one of them.
In a new interview, the former on-screen shopaholic opened up about the toll bleaching took on her hair while filming. "Stay away from heat as much as you can," she warned Elle.com. "I bleached my hair so much during Season 3 and it fell right off […]."
"I got a call from Warner Bros," she continued. "Like, 'You need to do something with your hair,' and I'm like 'well, duh, I'm bald!' Bleaching my hair was my biggest regret."
And it turns out, Benson wasn't a huge fan of her character's look in general.
"I was always all dolled up but I am not that girl," she explained. "I try to be but I like to be as comfortable as possible and I feel my best when I'm more downplayed. We wore pounds of makeup on the show, like it was actually horrendous how much makeup we wore. You could scratch off the makeup and get it in your nails."
Benson can next be seen alongside Cara Delevingne and Elisabeth Moss in the indie film Her Smell, a movie about an all-female rock band in the '90s. In the same interview, she noted that her look for the film is extremely paired down. "It's more focused on acting rather than how you look," she said. "We all look like we haven't slept in days and that was kind of the look for the characters […] This time I'm very raw, no makeup—these are the types of roles I'm gravitating towards."
Her Smell hits theaters on September 29th, and we look forward to seeing Benson in an all-new light.