Asha Bromfield says her time on Riverdale was "devastating" in conversation with Lili Reinhart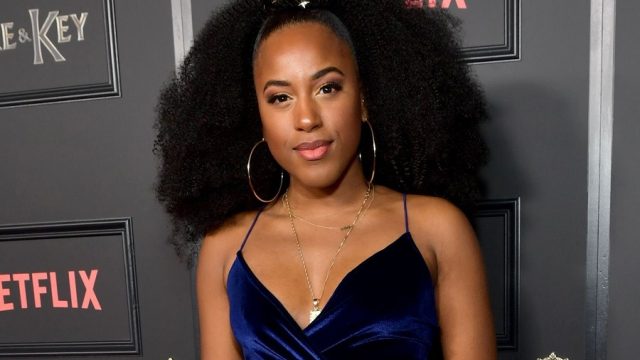 On June 3rd, Vanessa Morgan, who plays Toni Topaz on Riverdale, called out the show for marginalizing its Black characters and wrote on Twitter that she was "tired of how Black people are portrayed in the media." Since then, the series' showrunner has responded to these criticisms, writing on Instagram that Morgan is right and that Riverdale will "do better" to honor its characters of color—but the conversation hasn't ended there. Asha Bromfield—who played Melody, the drummer for Josie and the Pussycats—spoke with castmate Lili Reinhart via Instagram Live about her experience on the show and echoed many of Morgan's comments.
"In one breath, being a part of [Riverdale] was the most profound, historic, exciting thing for me as a Black actress, and on the other end, it was devastating," Bromfield told Reinhart, TeenVogue reported. "We stand in the background and we have a lot of attitude or we don't talk. Or, we're only included when we are uplifting white characters."
Like Morgan, Bromfield expressed her frustration and exhaustion with playing a sidekick to white characters and explained the effect this can have on the show's actors and viewers alike.
"I'm so much more, and Black people are so much more, than support systems," she said. "It becomes toxic messaging when we are perpetuating this idea that there's any less validity to my own life than yours, that my sole purpose in this world is to support someone who looks like you."
https://www.instagram.com/p/CBPD7DOA37g
Bromfield, who has also made appearances on Netflix's Locke & Key, explained that the issue of minimizing the role of Black characters is pervasive across the entertainment industry. "It's so much bigger than Riverdale," she said. "It's a bigger conversation about how we are humanizing Black people on screen in all capacities."
While Bromfield was able to share important parts of her experience on Riverdale during the near hour-long conversation with Reinhart, fans on Twitter weren't entirely pleased with Reinhart's side of the discussion. At one point in the conversation, Reinhart brought up showrunner Roberto Aguirre-Sacasa's apology and response to Morgan's comments and some thought that Reinhart was defending him.
https://twitter.com/udfredirect/status/1270553002433286144
false
Bromfield is keeping this important conversation going, so, hopefully, we see changes not just on Riverdale, but across television and entertainment.