This Instagram artist has spent the last five years drawing his daily life with his girlfriend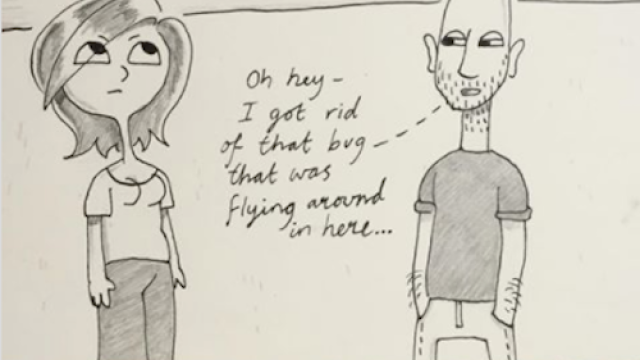 When you're in a relationship for a long time, the days can start to blend together. That's why an England-based illustrator began documenting the small-but-precious moments with his long-time girlfriend and their daughter.
Pete Duffield and Kellie Gage are in a happy long-term relationship, and have a daughter named Poppy together.
Shortly after beginning their relationship five years earlier, Duffield started drawing out the little moments the couple shared together, from enjoying ice cream, to their many attempts at cuddling, to watching Game of Thrones together.
These moments are seemingly mundane, but the illustrations showcase how special these little exchanges really are.
"I started keeping a list of ideas on my phone whenever something funny happened, Duffield told HuffPost. "The collection of drawings gradually grew and it was fun to document silly things we'd say or do.
Duffield's amazing illustrations have attracted quite the Instagram following (23,000 followers and counting).
Now that Duffield and Gage have a little one of their own, the illustrations include life with a baby. The drawings serve as a collection of memories of their days together.
"I still make the illustrations for Kellie  ― and Poppy now, for when she is older and can look back on them, he said.
Take a look at more heartwarming drawings below:
Too adorable.