This art subscription box is the perfect way to make 2017 more colorful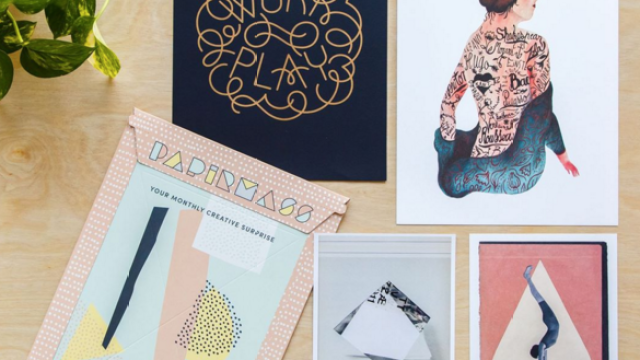 In 2016, we learned about plenty of new subscription box services. You can basically find almost anything you want: a box for all your witchy needs, a box to satisfy your love of Gilmore Girls, and even a box for that time of month.
Created by husband-and-wife duo Jp King and Kirsten McCrea, Papirmass lets subscribers learn about a different artist and their work each month. It's a beautifully curated service that proves something as simple as a subscription box can amp up your creativity.
Each month, subscribers get an art print, artist card, creative card, and illustrated envelope. The creative card is a "fun creative assignment designed to be shared in a supportive online environment," as described by Papirmass. Subscribers are encouraged to share their projects with #yaymail. So Papirmass wants to not only raise awareness about artists, but also encourage everyone to explore their own imagination.
The artist card offers a quick blurb on each creator, including their process and background. It's a great way to learn more about them and also find out how these prints fit into their overall work. You never know who you might get next month. Each print also has suggestions for framing printed on the back of them.
With at least one print a month (some boxes include multiple pieces), Papirmass is a low-key way to get more art on your walls. They might not be gallery-quality prints, but they're still colorful, creative pieces that arrive right at your doorstep.
Papirmass is $8 a month (with free shipping!). Here's to a creative year.