Everyone hop onto the stair car, because Jason Bateman is teasing a *sixth* season of "Arrested Development"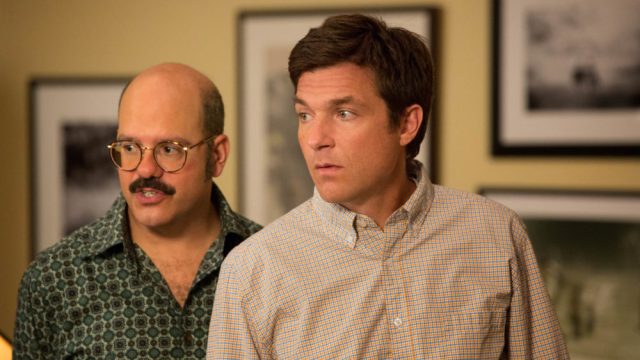 Back in May, Netflix proved that the proverb "There's always money in the banana stand" was very much true by announcing that Arrested Development — and its entire cast — would be back for a fifth season. The series, which initially ran on FOX from 2003 to 2006, was revived by Netflix for one season back in 2013. But much like Michael can never *actually* stay away from his dysfunctional family, we can never quite say goodbye to the Bluths.
Jason Bateman — who plays the beleaguered Michael Bluth — has been promoting his new Netflix series Ozark, which he produces and stars in.
And in doing so, the actor revealed that the Bluths could be back for more than just one more season of Arrested Development.
"We start shooting first week of August," Bateman told Deadline during a recent interview. "I haven't seen any scripts yet, but it's my understanding that this season is basically the second act of a three-act story that started with the first load of Netflix episodes. It was a story that Mitchell Hurwitz hatched after the Fox episodes. There's no plan yet to do a third act, but if this season is embraced that is definitely a possibility."
Yes, please!
The actor also revealed that one of the central plots of the upcoming season revolves around the death of Lucille Austero aka Lucille 2.
He added, "One of the major stories is the death of Liza Minnelli's character and who did it. It's not a murder mystery per se, but that's one of the central threads."
While Bateman is famous for being the comedic straight man in his roles, don't expect to find any Arrested Development silliness in his new Netflix series, Ozark. (Besides producing and starring in the show, he directed multiple episodes.) Ozark follows Bateman's character Marty Byrde, a money launderer for a top Mexican drug cartel. He flees Chicago for the Missouri Ozarks with his family (including wife Wendy, played by Laura Linney), and has to find a way to pay off his debt to his cartel bosses.
"As an actor, I'm always drawn to characters that are drawn to the audience," Bateman said of his dark role. "That's why I'm always looking to take on the everyman because I like that responsibility of being the proxy for the audience. He's also a guy who's toying with his idea of what the American dream is — is he willing to cut corners to get there quicker?"
We can't wait to see Bateman take on this more dramatic role when Ozark hits Netflix on July 21st. Meanwhile, we'll be waiting for Arrested Development to return next year.