Everything you need to know about Armie Hammer's obsession with tracksuits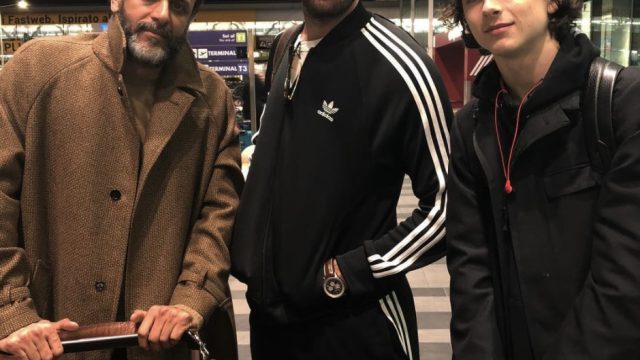 When the nominations for the 2018 Oscars were announced in late January, one of the biggest snubs was Armie Hammer, who was left out of the Best Supporting Actor race for his role as Oliver in Call Me By Your Name. While we were certainly disappointed in Hammer's lack of nomination, the actor seemed to take the snub in stride as he and the rest of the cast finally completed the last leg of their year-long promotion of the film in Crema, Italy, where it all began.
But as Hammer, director Luca Guadagnino, and actor Timothée Chalamet made the rounds through their European tour in London, Paris, Milan, and Crema, Hammer had an additional task to tend to. Not only was he completing the whirlwind adventure that was Call Me By Your Name, but he was single-handedly bringing back the tracksuit.
Everyone remembers the tracksuit. In a time before yoga pants and Kate Hudson athleisure-wear, the tracksuit — ruled by Adidas, of course — was the go-to ensemble that said "I'm busy, but relaxed, and if I have a spare second I may even go for a quick run." It was versatile clothing at its best and utilized by all-star multitaskers everywhere.
Once championed by the likes of Mel C., the tracksuit never quite disappeared, but still found itself next to Steve Madden's slinky black platform sandals, aggressively colorful windbreakers, and butterfly clips as trends of the past. Until Hammer came along, that is.
Hammer's tracksuit resurgence began the day after his Oscar snub, when he looked suave in a classic black Adidas tracksuit at the airport, flanked by Guadagnino and Chalamet on either side.
https://www.instagram.com/p/BeV9JrohK6R
With this Instagram post, the J. Edgar actor immediately gave tracksuits new life.
https://www.instagram.com/p/BeqxvKQhonG
But as they say, behind every great man in a tracksuit is the woman working to keep the movement alive. That woman is Elizabeth Chambers, Hammer's equally beautiful and fashionable wife, who not only served as his chief tracksuit strategist, but was pivotal in acquiring said tracksuits as the movement continued.
Likely with the help of Chambers, the actor began experimenting with color, spicing up his "le trackie" lifestyle with a powder blue ensemble and an homage to the original tracksuit icon:
And, of course, this magical gold/polkadot combo — which earns style points for being bold and beautiful:
He's joined by a fellow tracksuit connoisseur, who appears to still be working on upping his tracksuit game.
https://www.instagram.com/p/BekpwCQh4hy
Hammer even went high fashion, temporarily trading in his beloved Adidas look for a more suave Hugo Boss tracksuit:
https://www.instagram.com/p/Be4CX8fBMBq
And then there's this glam, yet comfortable look:
The photo's a bit blurry, so honestly, I can't even tell if a tracksuit is actually being worn, but the Queen of Tracksuits' caption seems to suggest that it is,  so you know what? We'll allow it. Plus, Timothée's thumbs up on the back is 100 percent a sign of support.
As Hammer's tracksuit movement swiftly gained traction, he began transitioning to more high-fashion tracksuits, so it's only natural to be concerned that he may have sold out and moved on from his Adidas days. But guys, Armie is a tracksuit man of the people.
Proving he never gives up on his OG friends, the actor broke out the black trackie while smizing for the camera with snacks:
https://www.instagram.com/p/BfB_o0qhFsJ
He even turned up at a black tie dinner in his Sporty Spice tracksuit, armed with fellow tracksuit partners in crime:
https://www.instagram.com/p/BfCu8FxBPrm
How Adidas hasn't already snagged the actor to be the face of its next tracksuit line is frankly astounding.
While summer is best known for its romantic flings, Hammer proved that even the winter months can bring a whirlwind, passionate love affair — with a fashionable yet comfortable ensemble. It's been a hot minute since Hammer or Chambers have acknowledged their beloved athleisure look, leaving us wondering if, after an intense few weeks, things have cooled between Hammer and le trackie, like that one summer in high school or a few weeks on The Bachelor.
Hammer is set to present at the Oscars on March 4th and Armie, if you're reading this, it might just be the perfect occasion to take this tracksuit love full circle — complete with a high fashion tracksuit tux. And if you think that doesn't exist, we're confident Adidas can work something out.