Elizabeth Chambers Is "Shocked, Heartbroken, and Devastated" Over Armie Hammer Accusations
She made a statement on Instagram and said she won't be commenting further.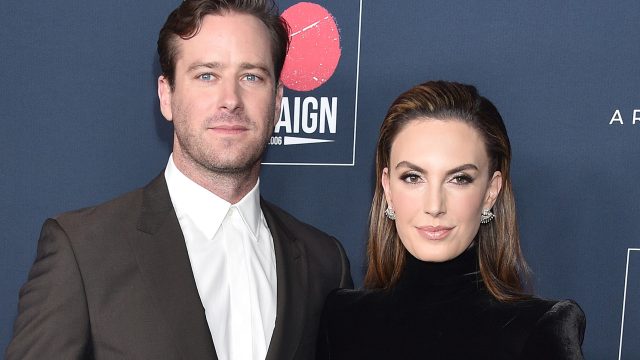 Warning: The following article mentions sexual violence.
Update, February 2nd, 2021: Armie Hammer's estranged wife, Elizabeth Chambers, posted a photo to Instagram yesterday, February 1st, and said it will be her only statement on the ongoing allegations against Hammer. She wrote that she is "shocked, heartbroken, and devastated" over what's been going on, adding, "I support any victim of assault or abuse and urge anyone who has experienced this pain to seek the help she or he needs to heal."
Chambers also added that going forward she will be focusing on their children, her work, and healing. Read her full comment below.
Update, January 29th, 2021: It was confirmed by Variety on January 28th that Armie Hammer would no longer be a part of The Offer, a project that depicts the making of The Godfather. Hammer was slated to play the lead role in the 10-episode series at Paramount Plus, however the production company is now reportedly searching for a new lead as the allegations against Hammer continue to grow.
Neither Hammer's nor Paramount Plus's reps have commented on this yet, however, Hammer's estranged wife, Elizabeth Chambers. made her first public comment since these allegations began.
Just Jared shared a post on Instagram on January 28th with a photo of Hammer, Timothée Chalamet, and their Call Me by Your Name director Luca Guadagnino. The caption reads, "Armie Hammer's director and co-star from 'Call Me By Your Name' (Luca Guadagnino and Timothee Chalamet) are teaming up for a… cannibal love story movie. (He's not involved, just FYI)."
Chambers, who has stayed silent since the allegations against Hammer came out, commented on the post and simply wrote, "No. Words." It remains to be seen if she'll have more to say about her own relationship with Hammer and all the allegations against him currently.
Update, January 14th, 2021: In light of the recent accusations against Armie Hammer, he has exited his role in the upcoming film Shotgun Wedding, according to Deadline. In a statement to the outlet, Hammer said, "I'm not responding to these bullshit claims but in light of the vicious and spurious online attacks against me, I cannot in good conscience now leave my children for 4 months to shoot a film in the Dominican Republic. Lionsgate is supporting me in this and I'm grateful to them for that."
Original story, January 13th, 2021: Amongst the massive fallout from the Capitol riots, the scandalous rumors swirling around the Kim Kardashian-Kanye West split, and the potential unseating of the president of the United States, you may have also caught a glimpse of Armie Hammer-related content going viral on Twitter this week—more specifically, screenshots showing Hammer allegedly DM-ing women messages containing acts of sexual violence and what appears to be acts of cannibalism. So, what's the situation?
The Call Me by Your Name star began trending on January 10th after screenshots of messages allegedly sent from Hammer were posted to Instagram and then to Twitter. Now, this should raise some red flags because screenshots can easily be doctored, so initially, the tweets were taken with a grain of salt.
The screenshots allegedly show Hammer firing off messages regarding seemingly cannibalistic activities and sexual assault, even at one point actually calling himself a cannibal. The messages, if they're legitimate, are disturbing, to say the least, and extend beyond what may be considered acceptable kink play. An Instagram user under the name @houseofeffie has been sharing her alleged story with Hammer and wrote on Instagram that others have reached out to her with similar stories.
She wrote in an Instagram Story (that still lives in a Highlight on her page) that the decision to share her traumatic alleged encounter with Hammer sent her into a "mental blackout," but she and other alleged victims have to "speak out." One of Hammer's former public flames, Jessica Ciencin Henriquez, spoke out on the matter on Twitter, writing that she believes this story is true. She has since locked her account.
Aside from the disturbing nature of these alleged messages, the real issue here is consent and the potential victimization of women at the hands of a powerful male celebrity.
If these messages are real and were sent to these women without their full consent, and these women were then assaulted and taken advantage of, then Hammer is potentially yet another man in a powerful position using his fame to exploit. We're possibly dealing with a very, very serious situation.
There is evidence supporting both sides of the story, with some people claiming that audio files prove the screenshots are legitimate and others saying that the DMs were doctored as a joke. We'll have to continue following the story to see what proof prevails, but no matter the outcome, consent and safety are key at the end of the day.
Neither Hammer nor anyone from his camp have responded to the allegations.