Arizona has a new love interest on "Grey's Anatomy" and we're not sure how to feel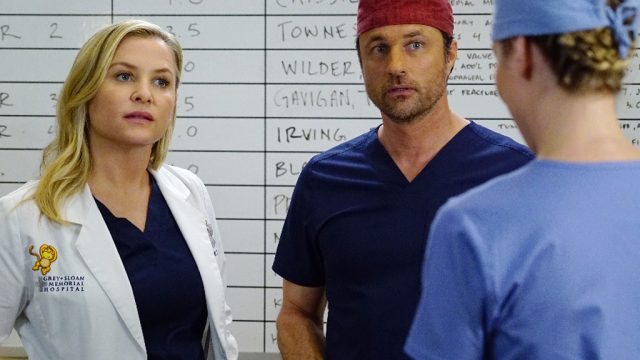 "Grey's Anatomy" has been on our screens for 13 seasons so it comes as no surprise that we've developed unhealthy attachments to the lives and loves of the most attractive surgeons in Seattle. And speaking of love, in last night's episode of "Grey's Anatomy" we met Dr. Eliza Minnick — Arizona's new lady love and possibly the most hated doctor to ever walk through the doors of Grey Sloan Memorial.
While it certainly makes sense that Arizona (Jessica Capshaw) would need to meet a new character that she can connect with and hopefully date, did it really have to be someone who's trying to ruin everything? Okay, that might be a slight exaggeration — we're having a hard time letting go of the Calzona feels.
 Dr. Minnick (Marika Dominczyk) is introduced as a consultant brought in to observe the hospital's teaching methods and suggest change where necessary. Needless to say, the sudden intrusion left all attending annoyed and on edge. Well, all the attending except the very single healer of tiny humans, Arizona — who spent most of the episode obsessing over the fact that her name was left off a list written by Eliza. Luckily, before the end of the episode Arizona gets her chance to confront the new doc in the magic elevator (seriously, why does everything happen in this elevator?)
"I was just trying to learn everyone's name. Writing it down helps me remember," she told Arizona, before getting her flirt on. "Arizona Robbins? That name attached to that face? No, that's not one you forget. Night."
Oh, she's really smooth. Arizona might finally be getting her groove back this season and we're totally here for it. Of course, in true Shonda fashion, it won't all be rainbows and butterflies. Dr. Minnick isn't just good at flirting, she's really good at her job. With statements like, "I don't share authority, I am the authority" we know she means business.
Now, we'll just wait to see if she'll be taking Bailey up on the offer to run the residency program which forces beloved, Dr. Webber out of his current position. Yikes!
Things are definitely about to get interesting and we can't wait.