Ariel Winter mixed up a white ensemble with black, thigh-high boots, and it's genius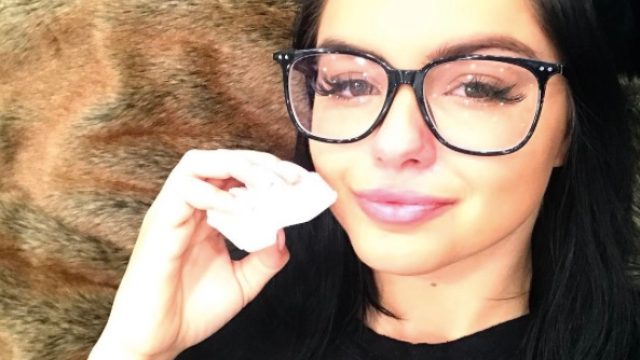 Wearing black and white together is nothing new, but there are ALWAYS exciting ways to mix things up. Case in point: Ariel Winter wore (almost) all white with tall black boots, and the super simple ensemble is surprisingly innovative.
She donned a white long-sleeved tee and white, ripped skinny jeans — then mixed things up with super bold footwear. Oh, and she tied everything together with a gray beanie, because, comfort is key. The end result is a totally badass snow bunny, and her hashtag "ootd" — outfit of the day — is right on the mark. She's owning this Friday ensemble, and we're crushing hard.
Are you ready to see what all the fuss is about?
https://www.instagram.com/p/BRcvTPjBUnh
There's another Instagram snap of Winter with Pacific Rim Uprising actress Ivanna Sakhno, and this is just too cute.
https://www.instagram.com/p/BRcr7SXBTxG
We're also kinda jealous that Winter is hanging out in Qingdao, China! This girl gets around; a few weeks ago she was posing with a wallaby at a zoo in Australia with BF Levi Meaden. Hey Ariel, take us with you next time?!
Seriously though, we love how Winter is snapping such body-confident snaps, which help us (and girls and women everywhere) own their beauty. During her appearance on The View, she admitted that things haven't always been so rosy for her, which is why she feels it's important to use her public platform to empower others to be confident in themselves.
"It was a really long journey to find that confidence, and I think it's really important because there are tons of young girls, young boys, people that are older than me, that don't really have a lot of people to look up to that are outspoken about things like that," she said. 
https://www.instagram.com/p/BRTvNfAhKwm
And guess what? Winter is going to continue her amazing streak with a busy year! As well as appearing with Burt Reynolds and Chevy Chase in Dog Years, Winter is lending her voice to the Smurfs: The Lost Village movie, along with Demi Lovato and Michelle Rodriguez.
So much yes!