Ariel Winter just perfected the most epic '90s club look yesterday, and somehow we missed it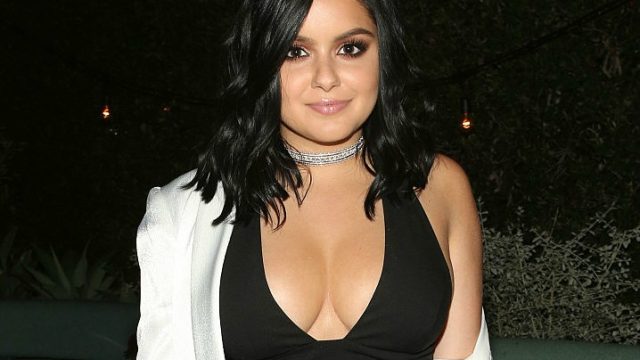 She may not have been born until the late '90s (1998, to be exact) but Ariel Winter rocked a '90s club look on a night out recently, and she totally werked it.
While celebrating her friend Alexa Losey's birthday at the Roxy Theatre in Los Angeles (Alexa plays Carissa Murman on Mr. Student Body President, a go90 show, in case you were curious!) Ariel rocked a strapless bodysuit and the teeny tiniest denim shorts — a total throwback to Cindy Crawford's classic 1992 Pepsi Super Bowl commercial ensemble.
Here's Ariel's take on the flattering-for-every-body look.
https://www.instagram.com/p/BNfbB5TDLTD
https://www.instagram.com/p/BNfgecMjyAn
And here's Cindy, rocking the outfit that inspired an infinite number of '90s club-kid copycats.
Sexy AF, then and now.
Ariel's style has definitely evolved over the years, but she seems to have settled comfortably into a sultry look that embraces and celebrates her figure. And while she's faced more than her fair share of body-shaming (ugh) she stands strong, fights back, and acts as an awesome role model for her many young fans.
Ariel revealed recently that she had a tough time accepting her body because she grew up in front of the cameras shooting Modern Family. In an interview with New York magazine, she said,
"I remember being completely flat everywhere — I had no curves, and I was getting hate for that. But then, when I was 12, my body changed, and I had boobs and a butt and these new curves. At first I was like, 'Oh, wow, I like this,' but soon pictures started surfacing of me online and I got the worst comments. It was really, really hard for me."
Thanks to support from "curvy role model" and co-star Sofia Vergara, though, Ariel learned to love her body, becoming a body-positivity icon for girls everywhere. We heart you, Ariel!