Ariel Winter just ended the whole "celebs should be role models" debate in one perfect sentence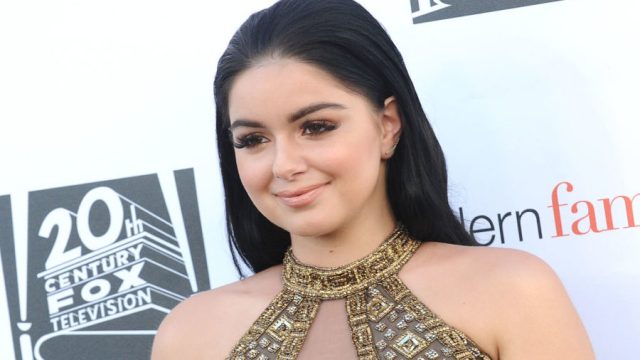 A new female-driven late night show is here, and it's already making waves. Truth & Iliza premiered on Freeform a few weeks ago, starring funny woman Iliza Shlesinger. And can we say, Iliza is killing it. Iliza interviewed Modern Family star Ariel Winter, who rocked a glam dress on the red carpet recently that invited some unnecessary criticism. Of course, Ariel defended her style choice in a totally classy way. But when she sat down with Iliza, these ladies got to the heart of the issue: how we unfairly criticize women's bodies.
Iliza Shlesinger asked Ariel Winter how she felt about all these critiques of her wardrobe, and the Modern Family star had some amazing insights.
https://www.youtube.com/watch?v=iUVh5OZk3v0?feature=oembed
Those who criticized Ariel tried to argue that Ariel was just "overdressed" for an event, claiming that was the problem. But Iliza and Ariel got to the heart of the matter. However, Iliza said that as she looked at the pictures of Ariel in question, it was clear that "it's about your boobs." Ariel wore an amazing mini dress that showed off her cleavage, and people weren't okay with it. And Ariel pointed out how unfair that message is, telling women to feel ashamed about their bodies. Ariel does have a pretty enviable body, and if she wants to show it off, we say more power to her.
https://www.instagram.com/p/BUH9_MKBIWb
But then Iliza brought up the question of "setting an example." It's another topic we hear a lot about when revealing clothing comes up. Female celebrities get told that they need to set an example for young girls. But Ariel had the best response we've ever heard.
Ariel said, "I think people should be focusing less on having celebrities be role models for their kids, and be focusing more on how to teach their kids to be an individual and not follow a celebrity."
https://www.instagram.com/p/BSbXbRmhSNK
Well said, Ariel! Well said! And we aren't encouraging individuality when we police young women on how they dress. Especially when we use different standards depending on the woman. And we were cheering when Ariel left us with the most amazing final words.
She said, "Rock out with your tits out."
https://www.instagram.com/p/BUKciZVhHJ1
And we agree. If that's what makes you feel fabulous, you do you, girl!