Ariel Winter is looking fierce and festive AF in thigh-high boots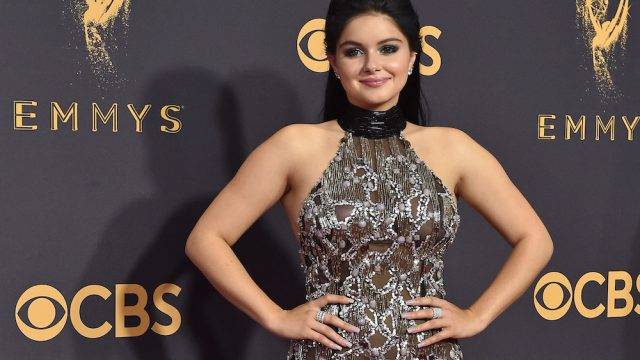 You probably already know that we're kind of obsessed with Modern Family star Ariel Winter and her fashion. Now, a month after celebrating her anniversary with boyfriend Levi Meaden, Ariel is back on Instagram and stylish as ever. Our girl Winter knows how to rock a crop top, and she's always been a fan of thigh high boots, even in summer. Now, she's rocking a new pair of over-the-knee heels.
Ariel Winter showed off new Instagram pics of herself wearing a black crop top set and thigh-high snakeskin boots. The 19-year-old actress revealed the outfit two black and white pictures that show off her curvy figure. And we're basically obsessed with the shoes. They make her legs look so long and amazing!
The actress has been recently seen wearing black thigh-high boots, maroon platform boots, and cowboy boots. She obviously knows that boots are the perfect fashion accessory, especially during fall and winter. Not only do they add height, but they keep your ankles from freezing in cooling temperatures. And when you're rocking thigh-highs, they keep half of your legs warm. Talk about a deal. The best part? You can stick your ID or cash in them if you don't feel like wearing a purse.
Okay, so Ariel Winter probably isn't stashing her lip gloss in her boots.
But there's no doubt that she looks amazing in whatever she puts on. And, as always, she's ever confident in who she is and what she chooses to do with her body. Ariel's take-no-shit (or body shaming) attitude will always be an inspiration to us.
But these boots are pretty inspiring, too.
https://www.instagram.com/p/BcdDGjVh_zk
Now we can only cross our fingers and hope that we'll find those giant gift boxes under our tree this Christmas. Think they're full of Ariel's style tips?