Ariel Winter's 'Easy A' costume is spectacular, because Halloween ain't over yet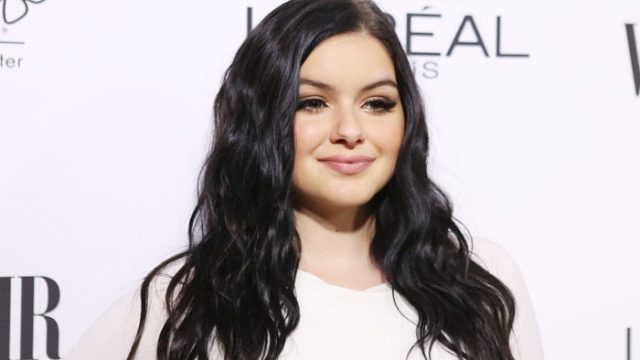 Ariel Winter may only be eighteen years old but she is wise beyond her years. The Modern Family actress took the opportunity to celebrate Halloween by donning beautiful and body-positive looks, but of all of them, Ariel Winter's Easy A costume might be our fave. The queen of striking back against trolls began her Halloweekend in a stunning Playboy Bunny costume on Friday night, before taking on an iconic character.
Winter debuted her costume, a take on Emma Stone's character from Easy A on Twitter and Instagram, with the simple and iconic caption "A". Not only did Winter look stunning, we all around love everything the costume stands for.
Check her out:
https://www.instagram.com/p/BMMxWFTjlVX
Required reading by seemingly every high school in America, the Nathaniel Hawthorne novel, The Scarlet Letter, centers on Hester Prynne, a woman shamed into wearing a scarlet "A" pinned on her chest after having a daughter out of wedlock in Puritan New England. In the 2010 film, Stone's character decides to use Prynne's scarlet "A" to take a stand against the slut-shaming she faces after a rumor about her is spread throughout her high school.
Winter has been at the center of slut-shaming from trolls herself numerous times, for simply wearing any clothing remotely revealing. Last year, Winter opened up to Glamour about the constant social media attacks. She said,
"We live in a day and age where everything you do is ridiculed. The internet bullies are awful. I could post a photo where I feel good, and 500 people will comment about how fat I am and that I am disgusting."
Winter's Easy A costume is an incredible way for her to take a stand for herself and so many others constantly ridiculed for what they wear, while referencing a hilarious film. Between this one and her Playboy bunny get-up, it's hard to choose a fave.