Ariana Grande took home a huge honor at the AMAs, and congrats girl!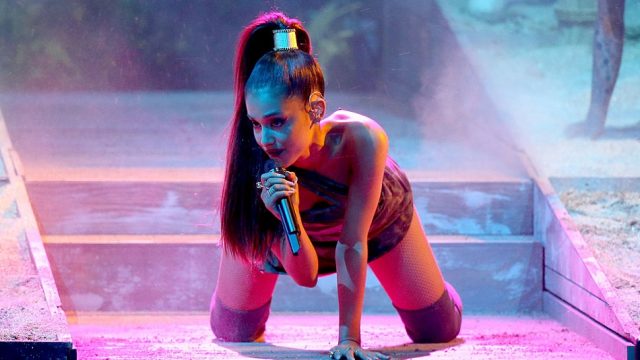 Ariana Grande is a young lady with a ton of talent. That's why her recent win at the AMAs should, really, come as no surprise. During last night's event, Ariana Grande was named Artist of the Year, which is a big honor and definitely an emotional one. Many happy tears were shed as she thanked her fans a bunch for the incredible award.
But in the very beginning, Grande was actually pretty speechless. It makes sense, as not everyone gets the chance to be Artist of the Year.
"Thank you guys so much, I am shaking, I want to say thank you to my fans, I love you to the bottom of my heart… I am shaking," she said at the beginning, as everything sunk in.
https://www.youtube.com/watch?v=EwH_qOlPFj0?feature=oembed
Grande even successfully fought off her "exit music" like a pro, which is pretty admirable.
Of course, this honor wouldn't have been given without her incredible fanbase, who made sure to keep voting for the star.
"I love them from the bottom of my heart no matter what," Grande said of her supporters. "I appreciate all of that, but at the same time I don't need an award to let me know how much they love me."
Grande beat out Selena Gomez, Rihanna, Carrie Underwood and Justin Bieber for the award, so it's safe to say that it was definitely a tough competition.
In general, her night was pretty fantastic. She got to perform a pretty incredible song with Nicki Minaj later in the broadcast, and truly proved how versatile of an artist she really is.
Next up for Grande? Finishing up her tour. She's got a few more dates left in December, and is scheduled to be on the road until May of next year. We think you probably won't want to miss it.