Ariana Grande will officially be in the latest 'Final Fantasy' game, and her character looks so awesome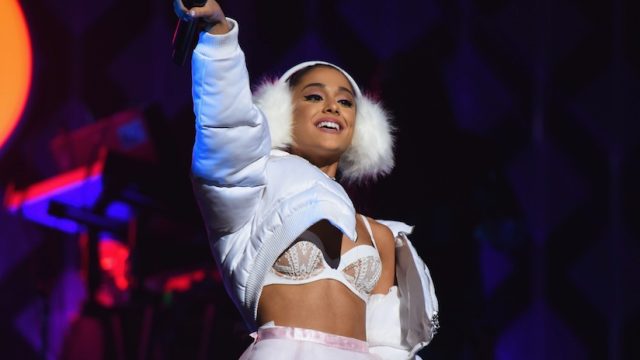 Ariana Grande is a star of stage and screen as well as a talented singer. It seems like she's not stopping there, though. You see, Ariana Grande is a character in Final Fantasy now, and we're into it.
Her video game alter ego *won't* be sporting her signature hairstyle (we forget that there was ever a time Ariana Grande didn't wear a ponytail, TBH), but otherwise, it's super cool. Recently Grande was objectified to her face and shut it down. This news dropped soon after, so we're loving it extra hard.
Grande calls her character, "the cutest thing i've ever seen in my entire life." It's a little hyperbolic, but we agree: In video game form, the singer is extra adorable. It's also wearing her Dangerous Woman bunny ears, so the likeness is lacking a ponytail. While that's a little strange, it also seems like an appropriate version of Grande to appear in the game.
She had previously shared a picture of herself in a meeting about the game. At the meeting, dudes in suits surround Grande – she even mentions it in the post. Then she goes on to explain:
"I'm SO so excited to finally share that I'll be featured in FINAL FANTASY BRAVE EXVIUS *crying* 🌌♡ check out my character in the game, it's the cutest thing i've ever seen in my entire life and i'm so excited and in love with it i cannot contain myself."
Her inclusion in Final Fantasy Brave Exvius is clearly thrilling for Grande. We totally get it. For one, FF is an iconic game. For another, it's a unique way for the singer to branch out a little. Grande also showed a sneak peek of her FF likeness. It looks like her video game alter-ego is a *powerful* singer, too.
We can't wait to see Ariana Grande's Final Fantasy likeness fully realized. We bet the character would shut down sexism just like the singer does IRL. Based on the preview, she's clearly a badass — even with out the ponytail.