Ariana Grande posted the most bittersweet tribute to Manchester one year after the arena bombing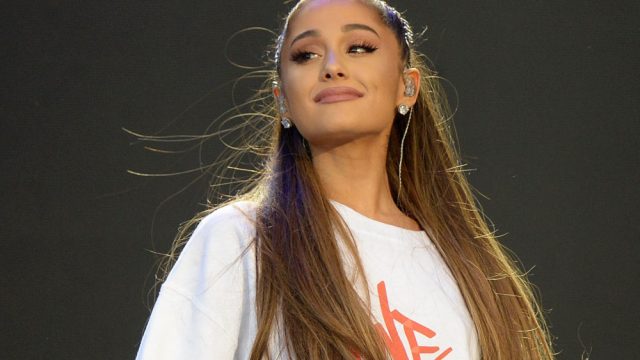 Exactly one year ago today, May 22nd, a suicide bomber detonated a homemade bomb as people were leaving Manchester Arena following an Ariana Grande concert. In one of Britain's deadliest terrorist attacks, 22 innocent people were killed and 139 were wounded – more than half of them children. Now, on the first anniversary of the tragedy, Grande posted a moving tribute to remember all those who were lost during the devastating attack.
Though this isn't the first tribute she's made (the video for her recent single "No Tears Left to Cry" contains a subtle tribute in its final frame), Grande's message is incredibly powerful.
"Thinking of you all today and every day I love you with all of me and am sending you all of the light and warmth I have to offer on this challenging day, she wrote on Twitter.
She also included the bee emoji in her tweet, referencing the Manchester "worker bee," the unofficial symbol for the U.K. city.
https://twitter.com/udfredirect/status/998788066629300224
The singer's heartfelt message comes ahead of a service of remembrance for all the victims. A cathedral service, vigil, and moment of silence will be held in Manchester, and British Prime Minister Theresa May and Prince William are expected to be in attendance.
Last week, Grande gave her first interview about the aftermath of the attack, telling Time magazine, "It's the absolute worst of humanity."
"That's why I did my best to react the way I did," she said. "The last thing I would ever want is for my fans to see something like that happen and think it won. Music is supposed to be the safest thing in the world. I think that's why it's still so heavy on my heart every single day."
In the weeks that followed the attack, the 24-year-old promised to return to Manchester for a charity concert. She kept her promise by hosting the One Love Manchester Benefit Concert that helped raise millions of dollars for the We Love Manchester Emergency Fund. Grande has been, and continues to be, a pillar of strength for the city of Manchester.
Our thoughts are with all the friends and families who lost loved ones that day.