Ariana Grande revealed that she played "Thank U, Next" for two of her exes before it was released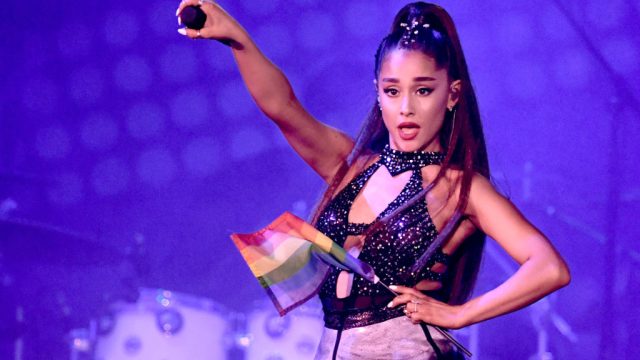 On Saturday, November 3rd, Ariana Grande dropped a surprise single called "Thank U, Next" that directly addressed her famous former flames. While the song spills the tea on four of her exes, it turns out that two of them actually got to listen to it before its release. Because the single debuted just hours before Saturday Night Live's November 3rd episode aired on NBC, some might assume Grande's most recent ex, Pete Davidson, would be one of the lucky early listeners. But nope. It turns out that the chosen two were none other than Big Sean and Ricky Alvarez.
Grande herself confirmed this on Twitter after one fan made a joke about Big Sean and Ricky Alvarez hearing their names on the track. Grande responded to the tweets, "They heard it before it came out."
On the track, Grande sings, "Thought I'd end up with Sean/But he wasn't a match/Wrote some songs about Ricky/Now I listen and laugh." The lyrics are harmless enough, and are pretty honest and relatable when it comes to looking back on past love years later, understanding that it wasn't meant to work out.
For those who don't remember, Grande dated rapper Big Sean in 2014. They made their public debut at the 2015 Grammys, then called it quits eight months later.
https://twitter.com/udfredirect/status/1058971186774794240
After Big Sean, Grande started dating Alvarez, one of her back-up dancers, in 2015. The two dated for over year; however their coupling is probably most known for the "licking donuts" incident in which Grande said she "hates Americans." She later apologized on Twitter.
As for the other two exes mentioned on the song, Grande sings about both Davidson and Mac Miller, the latter of whom died in September. "Even almost got married/And for Pete I'm so thankful/Wish I could say thank you to Malcolm/Cause he was an angel."
After the track dropped, Davidson made a statement of his own on SNL, saying, "I know some of you are curious about the breakup, but the truth is it's nobody's business and sometimes things just don't work out. And that's okay. She's a wonderful, strong person and I genuinely wish her all the happiness in the world." false
So it looks like Grande really doesn't have any bad blood with her former flames. Now if only she could share with the world her secret for keeping the peace with exes…because for that we would definitely say, "Thank U."