Ariana Grande's "Thank U, Next" showed me that a breakup can be as empowering as it is painful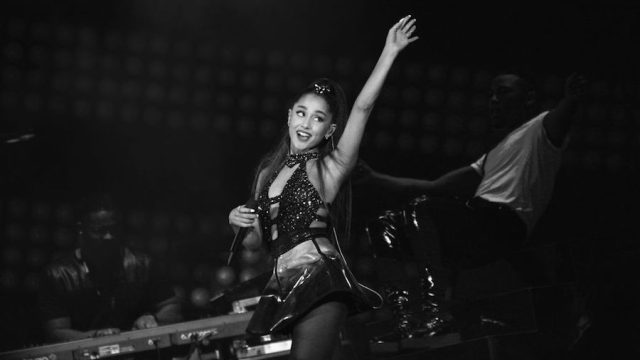 In less than five months, I have experienced the conscious uncoupling of an 11-year relationship (that's what I'm calling it because the word "divorce" makes me physically ill), an unexpected job change, realizations of who my real friends are (for both unfortunate and fortunate reasons), a broken lease, my luggage getting stolen (the chances of which are statistically, hilariously low), and, as I type this at a restaurant in Los Angeles, all of my not-stolen-belongings are in a storage unit in Atlanta. This year has been really hard for many people. Were I to survey my friends, that sentiment would stand for them, too. We've all had it rough, but I don't think any of us has had it quite as hard as Ariana Grande.
It was just less than 18 months ago that 22 of her fans were killed in a terrorist attack while watching her perform in Manchester. In August, we saw the groping incident at Aretha Franklin's funeral occur on live TV. And it was just in September that her ex-boyfriend and prolific rapper Mac Miller passed away from an accidental overdose (which many people took to social media to blame her for). Not to mention, we're not even a month into her calling off her engagement to Pete Davidson, and she has had to watch the split get treated like a punchline on SNL.
It takes courage to control your own narrative, particularly as a woman. We've seen this struggle acted out in political and entertainment arenas for years—everyone from media to your exes themselves wants a hand in writing (or re-writing) your story.
https://www.instagram.com/p/BpzXT17gTlh
When Ariana Grande released her track, "Thank U, Next" on the evening of November 3rd—a cool 30 minutes before SNL aired—she unabashedly and unapologetically used her own medium to take her story back.
I'll admit, like most avid listeners waiting to hear this song (released only months after her latest album Sweetener), I imagined a petty takedown. A square up to the SNL jokes, a chance to get a little revenge on those who had been kicking her while she was down. But what we got instead was a deeply self-aware reflection on the pain one must endure before reaching actual self-love. Not just the post-a-selfie-and-quote-a-self-help-book-in-the-caption kind of "happiness," but real self-love.
In the song, Ariana mentions her exes by name, starting with Big Sean and Ricky Alvarez before mentioning Mac Miller and Pete Davidson. She also gives them credit for the impact they've had on her life, singing, "One taught me love / One taught me patience / And one taught me pain / Now I'm so amazing / I've loved and I've lost / But that's not what I see / So, look what I got / Look what you taught me," before adding, "And for that, I say / Thank you, next." She ends it with the staunch and poignant lyrics, "I'm so fucking grateful for my ex." false
A common misconception is that the only reason we leave people is that we no longer love them, that we're running away from some sordid past or from a future we can't possibly accept. But that couldn't be further from the truth. The real reasons for why we leave are complicated shades of gray, creating emotional turmoil in a world that prefers putting our experiences into 160-characters-or-less buckets of black or white. Hero or villain. Good or bad.
Not to mention, the gray area is rougher terrain; the only thing worse than walking away from someone you absolutely hate is walking away from someone you are going to love forever, no matter what—even though you know you aren't meant to be with them.
And if you aren't currently on the other side of a life-changing relationship, you've still got plenty of reasons to love this track. Sonically, it's a relaxed R&B bop. And lyrically, the best part has got to be the plot twist. Right when you think Ari is alluding to having already moved on to another person, she reveals that she is actually just talking about moving on to herself:
"Plus, I met someone else / We havin' better discussions / I know they say I move on too fast / But this one gon' last / 'Cause her name is Ari /And I'm so good with that (So good with that).
Then Grande goes into what she has learned from herself: love, patience, and how to handle pain ("that shit's amazing"). Her words actually mirror what my therapist often talks about (if only my therapist sung it over a dope beat, maybe I would've understood it sooner).
https://twitter.com/udfredirect/status/1059482452819755008
It's not that you have to love yourself before you can be loved in return—but that you sure as hell must know and trust yourself first.
"Thank U, Next" embodies in just three words (or in two words and one letter) an entire ideology that I've taken 30-plus years to learn: you can be equally grateful for something or someone and still walk away, move on, say "next."