Here's the story behind the neck tattoo Ariana Grande got with her BFF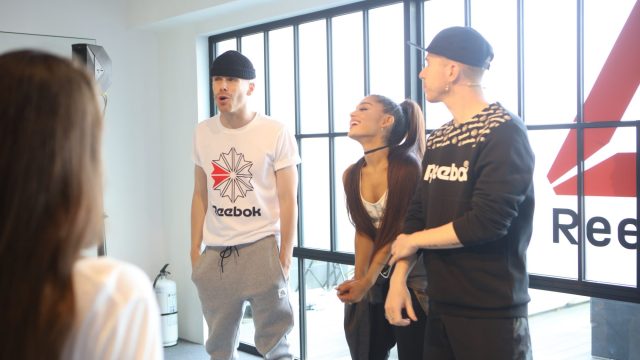 It's possible you've never noticed it, but on the left side of her neck, Ariana Grande has a small crescent moon tattoo. She got the ink back in 2015 on the Seattle stop of her Honeymoon tour, and at the time, her best friend and choreographer, Brian Nicholson, got the tattoo along with her.
At a recent event in Hong Kong honoring Grande's new partnership with Reebok, HelloGiggles had a chance to chat with Nicholson and his twin brother, Scott (who is also one of Grande's choreographers and dancers) and got the inside scoop on the matching ink.
"She got it, and then Brian saw it on her at the show, and he was like, 'I'm going to get it," Scott explained to HG. "He ran and got it in seven minutes."
Scott says he was going to get the tattoo, too, but he hasn't found the right spot for it yet. According to Brian, Scott thinks a lot about his tats and where to place them, and Scott says that he didn't want to run down the street and get inked "by a random dude." (We get it!)
"When I get back in two days [from Hong Kong], that's the first thing I'm doing," Scott said. (He even pinky swore with me — so Scott, I sure hope you're reading this and you got the tattoo!)
Grande got the ink first, and told Brian he should get it, too; they were about halfway through their first tour together, and Grande wanted to commemorate it with some permanent art. The crescent moon seemed like the perfect way to acknowledge the name of the tour, Honeymoon.
"It came together as a fun moment for me and her to bond," Brian said.
The twins, who just wrapped up their second tour with Grande — the Dangerous Woman tour — said Grande is fully invested in everything she does, whether it's her tattoos or putting on a badass live show.
"She really knows what the music means to her, so Scott and my job is to make that happen visually," said Brian. "She's amazing to work with, she's the best."