Ariana Grande stars in BF Mac Miller's new music video, and woah, it's crazy sexy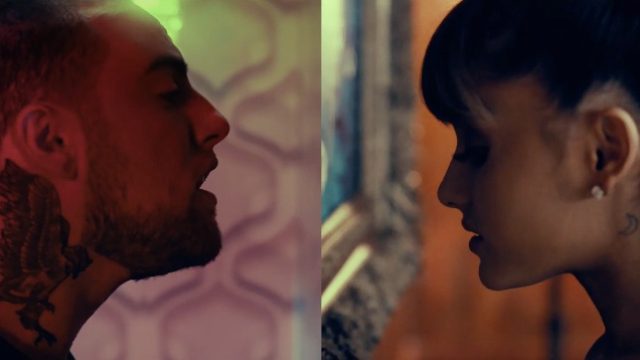 Okay, so we knew that Ariana Grande and her BF Mac Miller collaborated on a single called 'My Favorite Part' for Miller's album The Divine Feminine, and we've been waiting for the "My Favorite Part" music video…WHICH IS FINALLY HERE! Yup, Christmas has come early, you guys.
In the video, Grande plays the girl next door (literally) while Miller serenades her through a wall, singing about all her 'favorite parts.'
And yes, the whole thing is ridiculous sexy and sweet, with black-and-white elements that provide a definite edge. Before we dive in, Grande posted the most adorable message about the video. You know, to get you in that lovin' mood.
"#MyFavoritePartVideo 📺 That time I dropped my groceries, had a bowl of Cheerios, fell in love w my neighbor through the wall telepathically and it rained in my apartment. I love you @larryfisherman. We made another cool duet and i like your singing voice."
Ready to feel your heart flutter? Take a deep breath.
https://www.youtube.com/watch?v=J_8xCOSekog?feature=oembed
Phew, it's not every day we get to see a super adorable real life couple fall in love on screen (and sing real sexy like).
"and then it's gonna rain in your apartment" ".....tight"
All caps LOVE! This couple just project so many feel-good vibes. And remember when Grande got adorably flustered talking about Miller? Clearly they've got a special relationship, and it translates in this video (where it actually hurts to see Miller pine for the girl next door). false
We hope that Miller is helping Grande stay positive after the post-Hairspray blues. P.S. don't want to be greedy or anything…but we can't wait for MORE collaborations from these lovebirds! Priorities guys, come on now.
H/T: Perez Hilton