Um, woah! This Ariana Grande song is A LOT dirtier than we thought
If you watched the 2016 VMAs, you already know that singers Ariana Grande and Nicki Minaj made a splash with their performance of "Side to Side." While on stage, the ladies performed on Soul Cycle-type bicycles, causing us to imagine ourselves working out to that exact same jam.
However, as pointed out at Popsugar, when you take a closer look at the lyics, it becomes pretty clear that these performers are not talking about being sore from a bicycle workout…
But rather being sore from sex.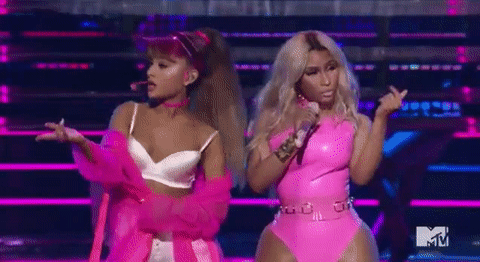 In fact, Grande makes this point explicit when she explained to MTV on the VMAs red carpet that the "whole song is about riding leading to soreness." "Ride dick bicycle is the lyric, indeed," she explained to MTV, referring to Minaj's verse in the song.
While Minaj has been known for some pretty scandalous lyrics in her time, we think audiences are still surprised by Grande's sexual empowerment and exploration when it comes to her music and performances. Still, as is the case with most popular music, you aren't likely to actually notice the overtly sexual nature of the lyrics until you tune out the catchy rhythm and overall atmosphere.
https://www.instagram.com/p/BJnpNpdgYeM
Still, we can pretend the tune is about working out while we get our exercise on, right? (Because ignorance is bliss?)