Ariana Grande has a song called "Pete" on her new album, because of course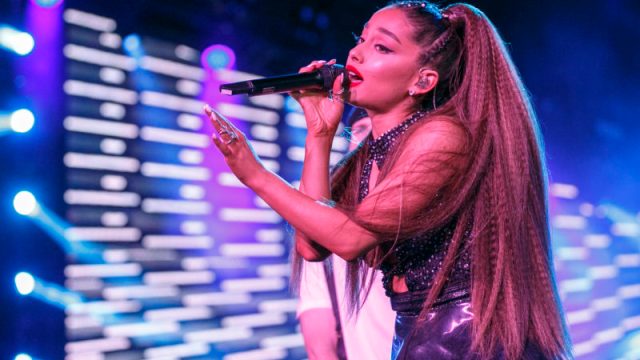 You know the old schoolyard rhyme — first comes love, then comes marriage, then comes Ariana Grande with a song called "Pete" on her new album? (We may have taken some creative liberties there, but you get the gist.) Things are moving quickly for Ariana Grande and Pete Davidson, who have fallen in love, seemingly gotten engaged, and reportedly moved in together, all in record time (like, a month). And now, Grande is supposedly adding a song called "Pete" to her upcoming album, Sweetner. Cue the fan freakout.
The "No Tears Left To Cry" singer has spilled so many secrets to fans ahead of Sweetener's release, including a list of track titles and song snippets. Fans recently got a taste of another song from the album via Grande's Twitter and Instagram on June 16th. We can't decipher exact lyrics from the heavily filtered video, but the name "Pete" stands out loud and clear.
https://twitter.com/udfredirect/status/1008049627369824256
"WHAT SONG WAS THE SNIPPET FROM MISS GRANDE," one fan asked on Twitter. The singer responded, "the one from today isss from an interlude ab pete." She then tweeted the interlude's title: Pete!
It looks like we have yet another piece to add to the Grande-Davidson relationship timeline. When did she even have time to record said interlude? Before or after the supposed engagement? Our heads are spinning.
https://twitter.com/udfredirect/status/1008506345388216320
"Pete" has split Grande's fans into two camps. Some are all about the love between their beloved songstress and the Saturday Night Live star.
false
false
And others aren't sure if naming a song after a beau is a good idea.
false
But Grande isn't fazed by anyone's opinions. She's over being cryptic because "life's too short," as she stated in a reply to a disapproving fan.
https://twitter.com/udfredirect/status/1008529275115442178
You do you, Ariana. This relationship might be hard for us to keep up with, but the important thing is that Grande and Davidson are happy.
Sweetener is expected to be released July 20th, and you bet we'll be giving it a listen.