Ariana Grande skipped the 2019 Grammys but still wore a Cinderella gown to celebrate her win with her dog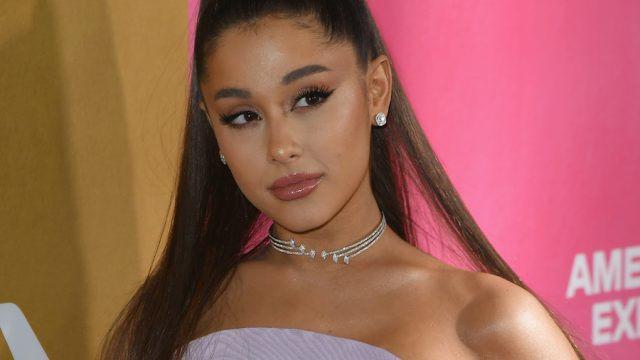 Thank U, Next singer Ariana Grande may have canceled her 2019 Grammys performance and rescinded her RSVP after creative differences with Grammy producers, but that doesn't mean she isn't going to celebrate her very first Grammy win tonight. Sweetener, Grande's fourth studio album, took home the award for Best Pop Vocal Album, leading the singer to write on Instagram, "i know i said i try not to put too much weight into these things …. but fuck ……. this is wild and beautiful. thank you so much."
But the celebrating via social media didn't stop there. Grande's manager, Scooter Braun, tweeted a video featuring Grande and her team watching the ceremony on TV from the couch. Later, Grande posted several photos on Instagram after dressing up in the custom Cinderella-esque Zac Posen gown it seems she had planned to wear to the ceremony.
"when @zacposen makes u a custom gown it doesn't matter if you're singing or not," Grande wrote in her caption.
Grande's dog, Myron, also participated in the celebrations, trailing along on the voluminous gown's train.
And even the designer himself addressed the fairy tale that inspired the pale blue ball gown, writing "Bibbidi-Bobbidi-Boo" alongside a photo of Grande.
Some Ari fans think the dress was a tribute to her late ex-boyfriend Mac Miller, which makes us love it even more.
We may have missed our chance to see the "Ghostin'" singer take the Grammys stage, but we're happy to see Grande celebrate a career milestone in all of her high ponytail-ed glory.