Ariana Grande Is Teasing Us With New Details About Her 2020 Album
We now have a release date and a potential album name.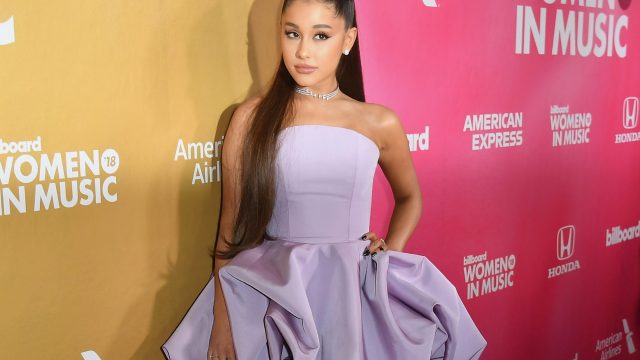 Update, October 19th, 2020, 10:40 a.m. ET: There's a new development on the "Ariana Grande saves 2020″ story. Following last week's news that she'd be dropping a new album this month, the "Thank U, Next" singer just shared some hints about what listeners can expect—and when.
In a tweet on Saturday, Grande shared a video of herself typing on a keyboard in slow motion, spelling out the word "positions." (Naturally, she's rocking a perfectly polished French manicure—because quarantine doesn't stop her from having glam nails.) Fans were quick to speculate that "Positions" is the name of Grande's forthcoming sixth album or the title of a new song. The pop star's next tweet made it seem even more likely that the former is true.
Grande tweeted out the link to her website, arianagrande.com, which brings users to an all-black page that reads "POSITIONS" and features two active countdowns. As of today, October 19th, one countdown has just over three days left, while the other shows over 10 days remaining, which (presumably) represents the release of a new single (on October 23rd) and the full album (on October 30th).
Stay tuned for more Ari updates as we cling to the last bit of hope we have for 2020.
Original post, October 14th, 2020: Leave it to Ariana Grande to swoop in at the last second and save the catastrophic year that has been 2020. Grande tweeted today, October 14th, that she'll be dropping an album at some point this month, and phew, we thought this year was a total loss there for a second.
I can't wait to give u my album this month, Grande tweeted at noon today. In less than three hours, the tweet has garnered over 500,000 likes.
Grande has been using her platform to encourage her fans and followers to vote in the upcoming presidential election, but has been fairly mum about having any big releases in the works. So, needless to say, this tweet sent a shockwave through the Ariana stan community.
Lil Nas X set the tone with this perfect Nicki Minaj meme that reads, "So There's This ARIANA GRANDE ALBUM," and it's all screaming, all caps text, and exclamation points from here.
Like, Ari…you don't know how much we needed this news. Even Spotify realizes the weight of this announcement.
FDA, you seeing this? (Kidding, of course, but also…)
It may be awhile before we get to go out and go hard to this upcoming album, but we're still feeling this way about it:
Okay. So, it's official. Aritober is definitely a thing that happening and this isn't some sort of trick—it's a full on treat.
No further details about the album have been shared with Arianators yet, but the confirmation that AG6 is coming in a matter of days is beyond exciting. It's been over a year since Grande released thank u, next and fans have been waiting patiently for the next release.
The time has come, kids. Stay tuned into Grande's Twitter in case she spills any more information about what's to come.