Seriously, Netflix's The Prom might have the most star-studded cast ever after this announcement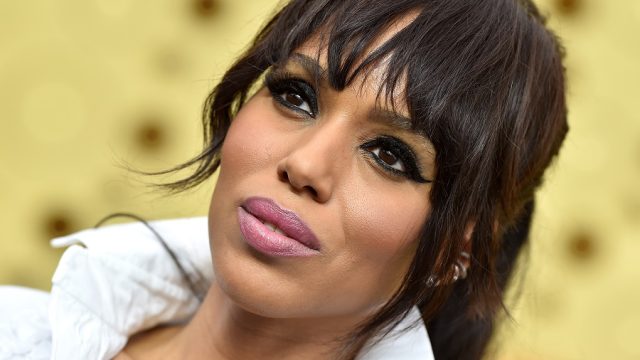 Update, October 14th, 9:45 a.m. EDT: Somehow it was possible to squish another A-lister into the cast of Netflix's The Prom. For the record, Meryl Streep, Nicole Kidman, Ariana Grande, and Awkwafina are already in the movie. And now, Deadline reports that Kerry Washington will be joining them.
This prom is going to be so much more epic than ours were.
Keegan-Michael Key, Andrew Rannells, and James Corden round out the cast—so far. (Who knows what other major celebrities Ryan Murphy and Netflix are hiding up their sleeves.)
At this time, it's not clear what role Washington will play. The Prom centers on four theater actors who go on a road trip to help a teenage girl whose prom was canceled after she tried to bring her girlfriend as her date. Casting for that teenage girl, Emma, has yet to be announced.
Original post, June 25th: Ariana Grande is officially making her return to the screen. The "Thank U, Next" singer has joined Ryan Murphy's The Prom, which will feature a huge, star-studded cast. Those who have signed on include Big Little Lies co-stars Meryl Streep and Nicole Kidman, as well as James Corden, Crazy Rich Asians star Awkwafina, Keegan-Michael Key, and Andrew Rannells. According to Deadline, the American Horror Story creator, who worked with Grande on Scream Queens in 2015, will release the Broadway musical film adaptation as part of his five-year deal with Netflix—which already includes the TV shows The Politician, Ratched, and Hollywood.
In The Prom, Grande is set to play a closeted popular teenager named Alyssa, who's dating her classmate Emma Nolan, in a story that "centers on four down-and-out theater actors who head to Indiana, where they help a teen whose prom was canceled when she tried to bring her girlfriend as her date."
We don't yet know who will play Emma; the film will have a "nationwide search led by casting director Alexa Fogel" to cast the role. As for the rest of the cast, Streep will play Dee Dee Allen, Corden will star as Barry Glickman, Kidman as Angie Dickinson, and Rannells as Trent Oliver. Meanwhile, Awkwafina will take on the role of publicist Ms. Sheldon, and Key is set to play Streep's love interest, Principal Hawkins.
Grande will also reportedly produce the film's soundtrack with Murphy and her manager, Scooter Braun, which means fans will not only get to watch her show off her Broadway musical talents, but they'll get brand new songs as well.
Murphy first announced he was adapting the popular musical into a Netflix movie back in April, but little did we know it would be jam-packed with stars.
"THE PROM is one of the most uplifting, heartfelt and special musicals I have ever seen on Broadway. It's truly an original that celebrates the underdog and says in a loving spectacular way that LGBTQ rights are human rights. I feel a special connection to it because it's set in Indiana, and that's where I grew up, too," he wrote at the time. "I'm thrilled to announce I'm turning it into a MOVIE EVENT for Netflix."
https://www.instagram.com/p/BwDhYq1Bai8
Though there's no official release date, The Prom is reportedly going to start filming in December for a Fall 2020 release—right in time for awards season.