Ariana Grande was just named Honorary Citizen of Manchester, and her response will make you teary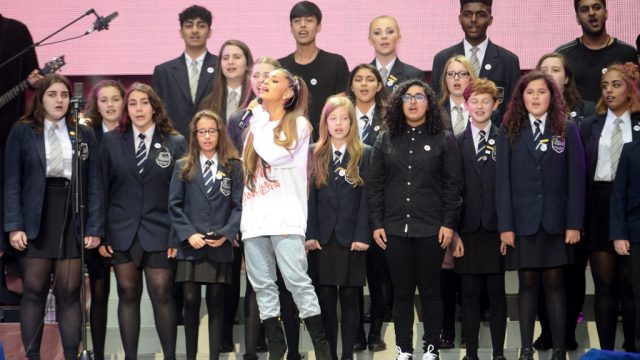 After the devastating attack at her concert in Manchester, England in May, Ariana Grande made a triumphant and emotional return to the city to perform a benefit concert, visiting with victims, fans, and families affected by the attack. And now the city is showing her the same love right back — Manchester has named Ariana an honorary citizen, and her response to the honor is truly touching.
Last month, city council leader Richard Leese came up with the idea after the pop star came back to Manchester to celebrate the victims and those impacted by the attacks, proposing to make Ariana an honorary citizen of Manchester. And yesterday, it was announced that the proposal passed "unanimously," according to reports, with Ariana saying she was "moved and honored."
According to NBC News, Leese said before the vote: "It would have been understandable if [Grande] had never wanted to see this place again. But she determined she would not to perform again until she had returned to Manchester. In doing so she brought comfort to thousands, she raised millions for the We Love Manchester Emergency Fund. [That's why] I propose Ariana Grande is made the first honorary citizen of the city of Manchester."
It's always been evident that Ariana loves her fans, but that love was never clearer than in the days and weeks after the horrific attack, and we're so happy to see her recognized for her efforts to the victims.
Ariana is currently continuing her Dangerous Woman World Tour, which has dates around the world through the rest of the summer. We know her heart is always with Manchester, though, and clearly, vice versa.