Ariana Grande posted a message to fans who are bullying Pete Davidson—"be gentle"
On December 3rd, Saturday Night Live star Pete Davidson got candid about his recent experiences with cyber bullying. According to Davidson, the internet has completely "trashed" him "without any facts or frame of reference" since his split with Ariana Grande. He also opened up about his continued struggles with mental health, and how he will continue to stay strong in the face of adversity. Later that night, Grande took to her own Instagram to respond to Davidson's post and encouraged fans to "be gentler with others."
"I've kept my mouth shut," Davidson began in his post. "Never mentioned any names, never said a word about anyone or anything. I'm trying to understand how when something happens to a guy the whole entire world just trashes him without any facts or frame of reference."
https://www.instagram.com/p/Bq7wFi9gjOH
Grande reposted Davidson's note to her Instagram Stories, and reminded followers to only preach love.
"i know you already know this but i need to remind my fans to please be gentler with others," Grande wrote. "i really don't endorse anything but forgiveness and positivity. i care deeply about pete and his health. i'm asking you to please be gentler with others, even on the internet."
Grande reminded her fans that no one really knows what someone is going through, "regardless of what they choose to display on social media or how they may appear in public."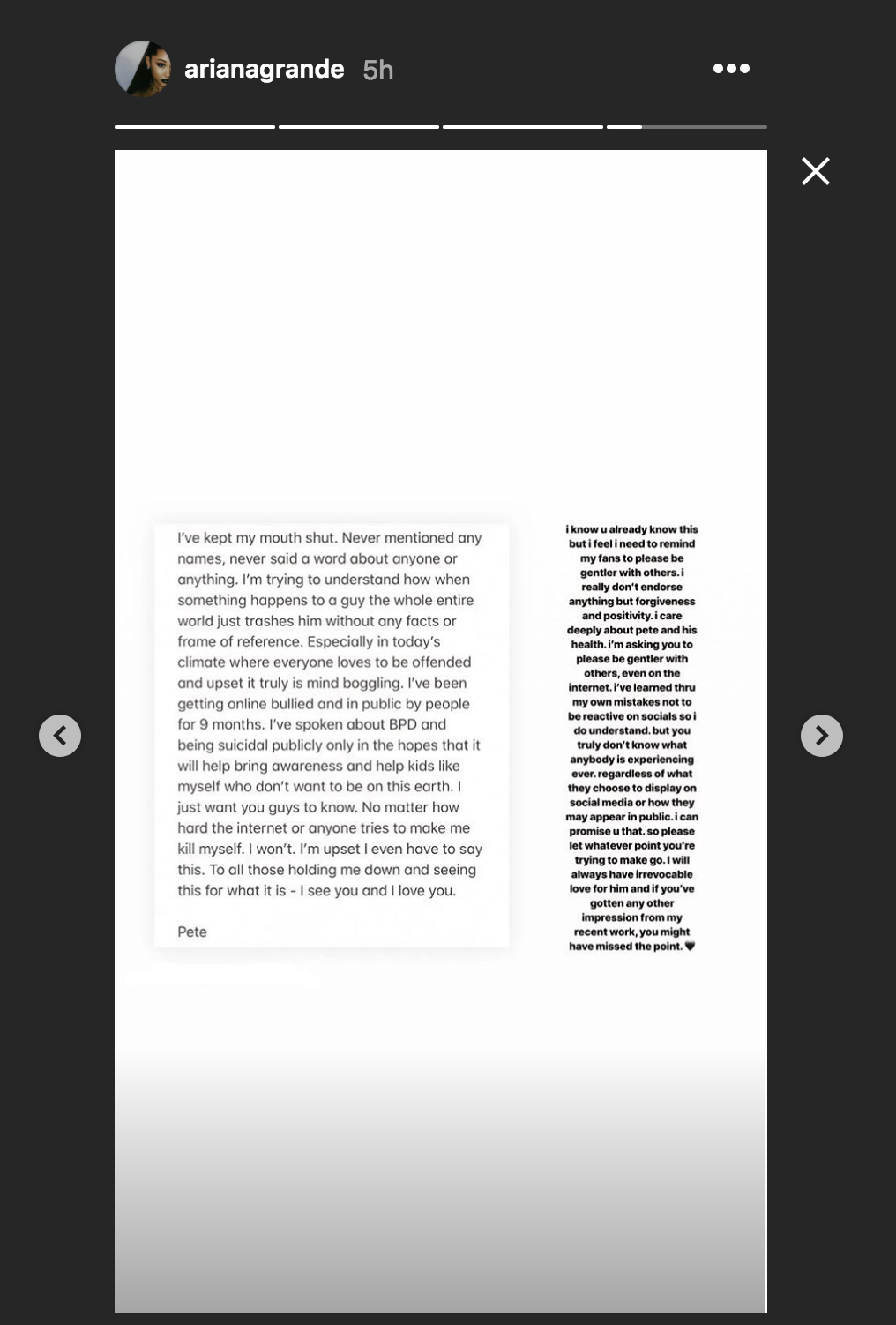 While Grande shouldn't have to tell her fanbase to be kind to others, we're extremely glad she stepped in to clear things up. Breakups are hard enough without the world watching, and at the end of the day, no one knows what goes on between two people in a relationship except the people actually in that relationship. Let's use this as a critical reminder to judge a little less and love a little more today.