Ariana Grande defended her hair from a hater with two perfect words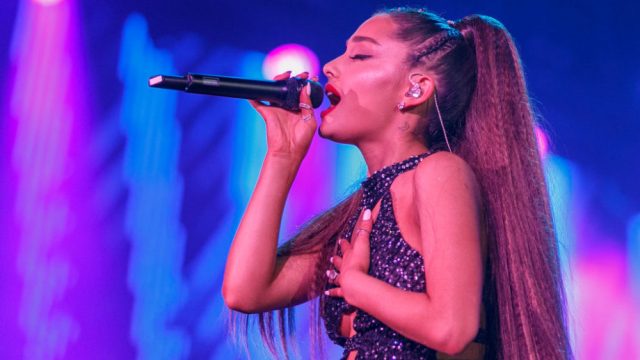 After her incredible vocal range, Ariana Grande is probably next best known for her signature high ponytail. The "God Is A Woman" singer has been rocking the slicked-back 'do since almost the beginning of her musical career, and she's made it clear that the look is here to stay.
Grande is also an expert at shutting down internet trolls, so it's no surprise that when one Instagram user complained about her hairstyle, the singer only needed two words to clap back. On July 16th, stylist Mimi Cuttrell posted a picture on Instagram of Grande out and about in New York with her fiancé, Pete Davidson. The pop star was sporting her usual high pony, and one fan had thoughts.
"I'm sick of that ponytail," the user wrote in a comment.
It didn't take Grande long to respond, with the whole exchange getting posted to commentsbycelebs.
"I'm not," she replied about five minutes later.
https://www.instagram.com/p/BlUQCLLBh6Q
BOOM. Mic drop.
Grande's simple, polite, and effective response caused several other users to step in on her behalf. One user, @sofiavaldesss wrote, "@arianagrande don't worry the majority of us live because of it, it's iconic." Another user, @nataliesjournal wrote, "Her style is unique and her confidence is even better."
Whether she's wearing it high, low, or even dyed icy blue, Grande's pony is indeed iconic.
Of course, she lets her hair down on occasion (literally).
At the end of the day, Grande's hair is up to her and her alone, and we're here for it. Long live the ponytail.