Stop everything: Ariana Grande and Pete Davidson just posted their first public kiss pic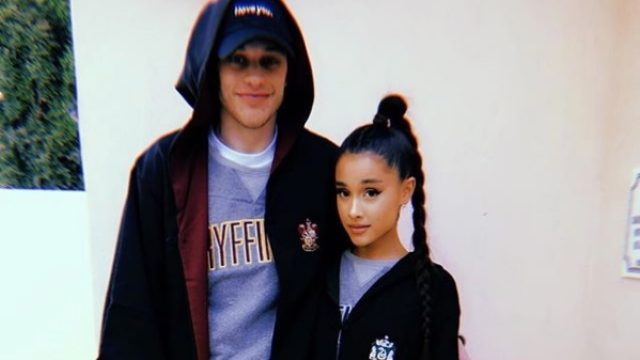 We knew romance was a-brewing between these two. Ariana Grande and SNL's Pete Davidson have been teasing us for what feels like months (though it's admittedly only been about a week), and we now have all the adorable, romantic relationship confirmation we need with their first public kiss pic.
Again, we already were 99.9% sure about this. Grande posted an Insta Story of the two roasting marshmallows together on Memorial Day. THEN, yesterday, May 30th, Davidson posted a pic of the pair standing next to one another in Harry Potter robes — his arm casually draped over her shoulder. He cryptically captioned the post, "the chamber of secrets has been opened …" — which many fans (us included) assumed was a nod to the "secret" of their romance.
https://www.instagram.com/p/BjaMCELnB9G
However, since neither star had technically confirmed they are, in fact, an official couple, there was still the .01% doubt in our minds (because, hey, friends can roast marshmallows and geek out about Harry Potter, too guys). Until now.
Grande posted the following pic to her Insta feed today, May 31st.
i thought u into my life 💭 woah ! look at my mind
WE'RE LITERALLY MELTING!
This is just about the cutest couple photo we could have asked for from these two, and we're genuinely so excited for the new, seemingly euphoric couple. Both recently have gotten out of breakups (Grande with Mac Miller and Davidson with Cazzie David), so we're honestly just glad to see them happy and thriving.
Now…how about a creative collab, guys? We know you've thought about it.