Ariana Grande and Pete Davidson are reportedly engaged, and we literally have so many emotions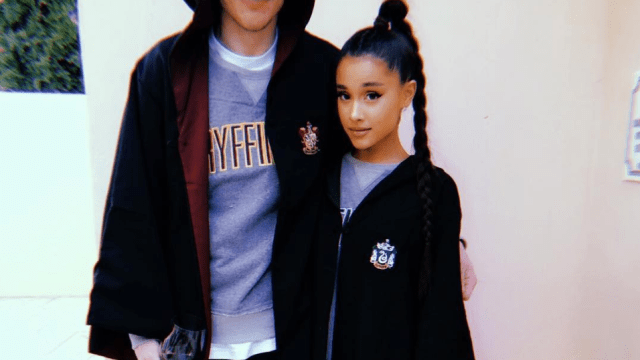 It seems the past few weeks have been a whirlwind for Ariana Grande and Pete Davidson, so much so that the pair are reportedly engaged.
It's been just shy of two weeks since the "No Tears Left To Cry" singer and Saturday Night Live cast member confirmed their relationship, after being spotting taking up residence in the comment section of each other's Instagrams. But after two tattoos (for Davidson), a truce between Slytherin and Gryffindor by way of adorable Harry Potter photo shoot, and a dozen Instagram stories,Us Weekly has reported that Grande and Davidson are engaged.
The engagement has also been confirmed by People, so this very much seems like the real deal and all Draco/Hermione shippers can rejoice.
In early May, Grande confirmed her split from boyfriend of about two years, rapper Mac Miller, while just a week later, Davidson revealed to Complex that he and his girlfriend of two years, Cazzie David, were no longer together. Rumors of Grande and Davidson's relationship began circulating days later.
https://www.instagram.com/p/BjaMCELnB9G
While we've been watching their adorable budding relationship unfold on social media, it's safe to say we were all taken aback by news of their engagement. While neither have specifically confirmed their engagement online, Grande tweeted a cryptic tweet that is very much not a denial.
WHAT DOES THIS MEAN??
false
She also favorited two congratulatory tweets from fans…which we're putting down as confirmation adjacent.
Considering it took me five months to even get a bed frame after I moved into my apartment, I honestly have to applaud their decisiveness. While the pair may be freshly engaged, according to US Weekly, they aren't necessarily looking to go the Khloé and Lamar route and rush down the aisle. Rather, the two plan to enjoy a long engagement.
While true love knows no bounds, neither do jokes. Recovering from the collective "white guy blinking" response we all had after hearing the news, Twitter came through with jokes about how fast their relationship is progressing.
false
false false false
https://twitter.com/udfredirect/status/1006276721149120513
The other SNL couples could never.
Congratulations Ariana and Pete, we're so happy for you (if this is true). Please tell us the wedding will be Harry Potter-themed.