Ariana Grande just paid tribute to The First Wives Club—and here's what that means if you haven't seen it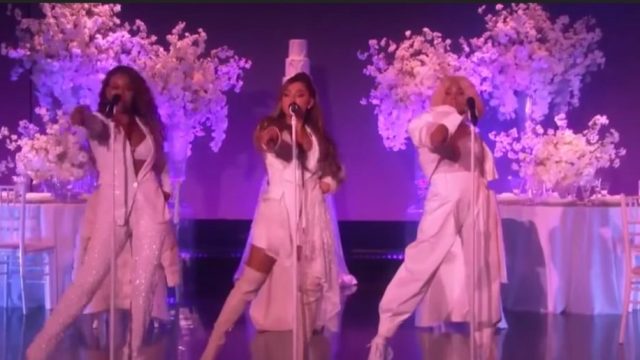 Over the last few years, Ariana Grande has handled a devastating amount of high-profile pain with incredible grace, and her response to the media sensationalism surrounding her breakup with SNL's Pete Davidson has been no different. The singer seems to be taking it all in stride, releasing an empowering new single titled "Thank U, Next" in which she reflects on her former relationships with positivity (and chooses herself over any guy). And as if "Thank U, Next" wasn't already an iconic anthem, Grande paid homage to a legendary female empowerment film during her first live performance of the song.
In the emotional performance on The Ellen Degeneres Show, Grande recreated the iconic end scene from The First Wives Club.
https://www.youtube.com/watch?v=zE9xQKJ0_0A?feature=oembed
In the Ellen performance, Grande and besties Victoria Monét and Tayla Parx recreate the charity benefit reception scene from the movie, in which Diane Keaton, Bette Midler, and Goldie Hawn perform Lesley Gore's feminist anthem "You Don't Own Me"—complete with choreography. It's a moment that marks the power of female friendship, as well as the fact that the three protagonists are loving their lives as independent women.
For reference, here's the scene from The First Wives Club:
https://www.youtube.com/watch?v=Q_oFL_b719g?feature=oembed
Talk about a perfect homage.
Those who've been keeping up with Grande's Instagram know she's been revisiting the movie recently—when not performing her duties as the unofficial president of the Haunting of Hill House fan club, of course. And honestly, we couldn't think of a more fitting film for the singer to channel as she celebrates this next chapter in her life.
For those who somehow haven't had the pleasure of watching the iconic 1996 film—based on a book by Olivia Goldsmith—Keaton, Midler, and Hawn star as friends from college who reunite after the death of a fourth friend. Each are still reeling from the demise of their respective marriages, so the trio decides to seek revenge on their exes. Revenge plans aside, the star-studded film—which also includes Sarah Jessica Parker, Marcia Gay Harden, Victor Garber, and Maggie Smith—is an empowering story of female friendship, moving on from heartbreak, and self-love.
We love that Ariana Grande is going full First Wives Club as she embraces her newfound singledom, and we can't wait to see what she does next.