Ariana Grande revealed the name and meaning behind her new album, and we're intrigued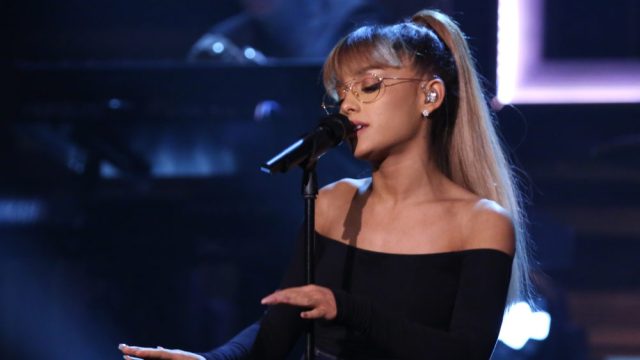 On last night's May 1st episode of The Tonight Show Starring Jimmy Fallon, Ariana Grande spilled all the deets we've been dying to know about her upcoming album release. First, she revealed to host Jimmy Fallon that she's dropping her new album this summer. And, in a shocking twist, Grande even revealed the name of the album and its meaning. This never happens, people!
"It is called Sweetener," Grande said in the sweetest way possible. When Fallon asked why Sweetener, Grande explained, "Because it's kind of about bringing light to a situation, or to someone's life — or somebody else who brings light to your life, or sweetening the situation." Grande then held nothing back about her upcoming music.
"Should I just spit it out?" Grande joked. She continued, "My fans know I have a song called "R.E.M." because I have a big mouth and I went on Twitter and I just tweet-vomited a bunch of lyrics the other day."
Yeah, it's true. She did.
https://twitter.com/udfredirect/status/990306560252395520
https://twitter.com/udfredirect/status/990308291241627648
And wait, there's more. Grande continued to spill: "There's another song called "The Light Is Coming" that I love a lot. And then there's one called "God Is A Woman" that I love."
She even confirmed that Sweetener's track list is hidden in her "No Tears Left To Cry" music video, but that's old news to Grande's followers.
https://www.youtube.com/watch?v=ffxKSjUwKdU?feature=oembed
But here's something that perhaps even the most avid fans didn't know: The first song on Sweetener is called "Rain Drops." It's actually a cover of a 1950s song called "An Angel Cried," and it appears as an a cappella intro to the album. We have goosebumps already, but get this — Grande realized after she recorded the sample that her grandfather's best friend wrote the original song with the Four Seasons.
Check out her entire interview with Fallon to get the full scoop on Sweetener.
https://www.youtube.com/watch?v=6uryAvvUbLU?feature=oembed
It sounds like Grande has a lot lined up for us in the coming months, including a performance at the Billboard Awards (yay!).
And if you paid close attention to her interview with Fallon, Grande dropped that her new album will ~perhaps~ be out on July 20th, so stay tuned. We cannot wait to hear Sweetener in its entirety.