Ariana Grande's mom helped fans escape following the bombing in Manchester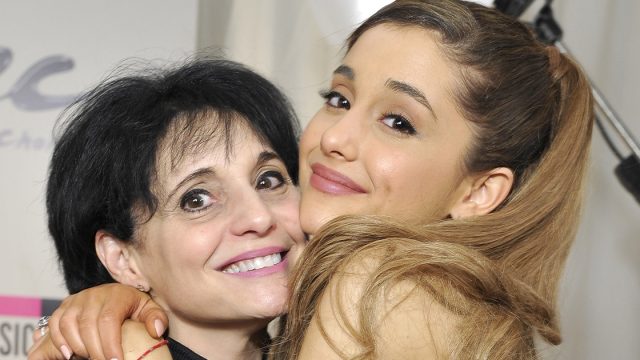 As we begin to process the horrific events in Manchester on Monday night, reports have emerged that Ariana Grande's mom, Joan, helped fans out of the arena following the two explosions after the singer's concert.
As first reported by TMZ, ABC News later confirmed the reports, noting that following her daughter's show, Joan Grande was making her way backstage when the bomb went off. At the time, the 48-year-old was surrounded by a bunch of jubilant concert goers who were eager to meet their idol's mother. Once the explosions occurred, Joan allegedly helped usher a bunch of kids backstage alongside Ariana's security, and held them there until it was safe to exit.
"We're told she and members of Ariana's security took the fans backstage and waited with them until they were able to safely exit the arena," TMZ wrote.

Monday night's attack at Ariana Grande's concert in Manchester has left 22 people dead, with nearly 60 others injured and many still missing.
Following the incident, which U.K. authorities are treating as an act of terror, Ariana tweeted that she felt "broken" by what had occurred after the show.
https://twitter.com/udfredirect/status/866849021519966208
Police have named 22-year-old Salman Ramadan Abedi, a British born individual, as the suspect in the attack, noting that he died during the explosion. It's unclear at this time whether he acted alone, but police have arrested a 23-year-old man in connection with the incident. Following the attack, British Prime Minister Theresa May has raised the terror threat in the United Kingdom from Severe to Critical, meaning that the possibility of another attack may be imminent.
Meanwhile, People and The Daily Mail have reported that Ariana and her mom Joan have returned home to Boca Raton, Florida. The singer is scheduled to perform in London on Thursday (May 25th). Despite reports that she has suspended the rest of her world tour, no information has been released as to whether the shows will go ahead or not.
https://www.youtube.com/watch?v=8mL-uPIfwco?feature=oembed
Last night in Manchester, thousands gathered for a vigil in honor of those 22 individuals who lost their lives, many of whom who have yet to be identified, and the 59 still in hospital.
https://www.instagram.com/p/BUd375xlQ5q
https://www.instagram.com/p/BUdIwmclEyl
As we learn more about this horrendous and despicable terrorist incident, our thoughts are with the loved ones of those who lost their lives, those injured in the attack, and Ariana Grande and her team. We also give our thanks to the service men and women who continue to work so hard.
For more information on how you can help the victims, visit here.