Ariana Grande, Miley Cyrus, and Lana Del Rey are officially collaborating, and did fans manifest this?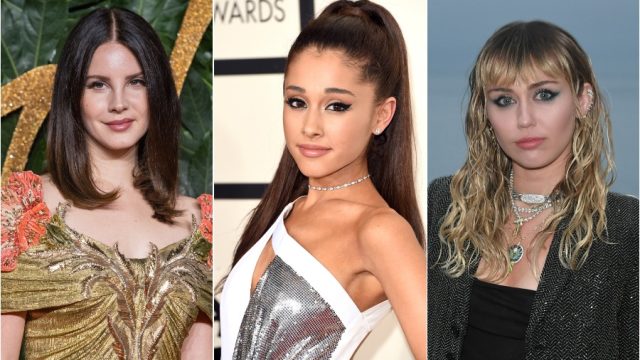 Update, June 27th, 1:30 p.m. EDT: The official Charlie's Angels trailer is here, and it includes the first snippet of the star-studded musical collaboration.
Update, June 26th, 2:30 p.m. EDT: The rumors have been confirmed! Miley Cyrus posted that she, Lana Del Rey, and Ariana Grande will be collaborating on music for the new Charlie's Angels movie. This post has been updated to reflect the news.
We've been not-so-patiently waiting for the release of the upcoming Charlie's Angels reboot, which seems like it'll be an amazing, gender-swapped twist on the beloved big-screen adaptations from the early 2000s. This version seems chock full of girl power: Kristen Stewart, Naomi Scott, and newcomer Ella Balinska star, Elizabeth Banks is at the helm directing, and Drew Barrymore will executive produce. Recently, internet rumors buzzed that the soundtrack would feature an incredible collaboration, featuring three of your favorite female singers. And it's just been confirmed! Here's what we know.
The rumors began on June 18th after Miley Cyrus reportedly liked an Instagram post about a collaboration with Ariana Grande and Lana Del Rey, putting social media sleuths in full-on watch mode. Then, it seems Grande liked a similar post, which sent the rumors into overdrive.
Then, on June 22nd, some eagle-eyed fans noticed that a post on the official Giphy account had all three artists tagged alongside "angels," which many believed was a subtle hint that a Charlie's Angels collab was in the works.
Yesterday, June 26th, Cyrus confirmed the collaboration on social media.
"WE ARE COMING!" she wrote, tagging the Charlie's Angels movie account, Lana Del Rey, and Ariana Grande.
And today, finally, we got our first listen of the star-studded song when the first Charlie's Angels trailer dropped.
Grande and Cyrus are longtime friends, and we already know they make musical magic when they team up together. Add in Del Rey, and we now have three powerful pipes joined in song. Plus, this movie needs a fierce feminist anthem. We still include the iconic Destiny's Child song "Independent Women, Pt. 1" on our playlists 18 years after its release, and the reboot deserves an equally great song for us to sing at the top of our lungs.
Now that the news is official, we can hardly wait until the movie is released. We've got our friends prepared for the iconic pose.
Originally published June 24th.