Ariana Grande got choked up talking about Mac Miller's lasting effect on her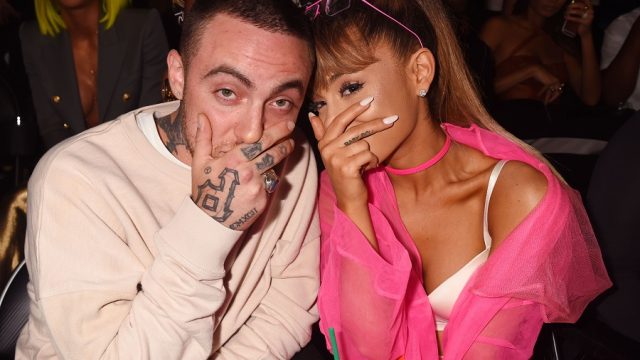 In a new interview with Zane Lowe on Apple Music's Beats 1, Ariana Grande opened up about Mac Miller, whom she dated for two years prior to his death in 2018. While she rarely speaks publicly about her late ex-boyfriend, the singer got emotional when Lowe asked about Miller's legacy as an artist. Our hearts can hardly handle this.
Grande opened up about how important music was to Miller, telling Lowe, "I think that nothing mattered more to him than music, ever. And he was the kind of person who woke up and rolled into the studio, tumbled out of bed, into the studio next door. Nothing was more important."
She added, "Talk about losing track of time and forgetting to eat, remind yourself to take care of yourself and be a person. He was a person who gave literally every single second of his thought and time and life to his music."
The "7 rings" singer listed several of Miller's albums that she loves, adding, "I think that's so evident in what he's left us with, and just how many incredible and different bodies of work, everything from Blue Slide Park, K.I.D.S., to all the way through Divine Feminine, to Swimming, to Circles, to everything in between."
"It's just such a beautiful gift I think that he kind of touched the world with," she said with a slight crack in her voice, "and I think the thing he'd want most is for us to just appreciate it and not forget about it."
Grande has paid tribute to Miller through her own music and on Instagram, but she rarely opens up so much about him in interviews, making this moment all the more powerful to fans of them both.
Check out the video below—captured by a fan account—to hear Grande speak about Miller in her own words.
https://www.youtube.com/watch?v=IPQYZmB73-8
Her full Beats 1 interview will be released soon on Apple Music, but we're fully in our feelings hearing the way she talks about him. We're sending all our love her way and to those who were equally touched by Miller as a person and a musician.