Ariana Grande wants Lush to create a bath bomb inspired by her music video "God is a Woman"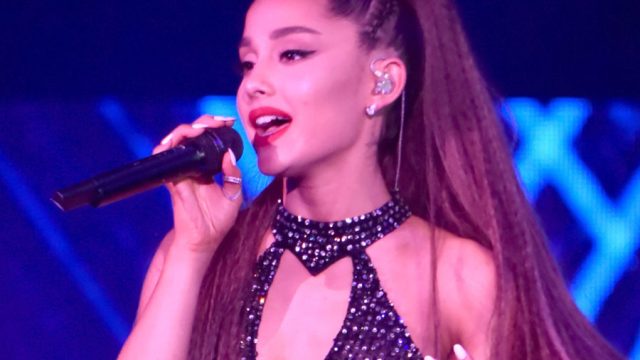 Ariana Grande dropped the music video for her new song "God is a Woman" on Friday, July 13th to much buzz. The upbeat track is from the singer's upcoming fourth studio album Sweetener, due out on August 17th. In the "God is a Woman" video, Grande bathes in colorful substances (possibly paint) against the backdrop of religious visuals. Dialogue from the indomitable Madonna is featured, which makes it all the more captivating. However, following the release of the music video, fans — and Grande herself — want Lush Cosmetics to create a special bath bomb inspired by the visuals. And honestly, we see where they're coming from.
In the music video, Grande is seen submerged in what totally looks like a bathtub filled with colorful bath bombs.
https://twitter.com/udfredirect/status/1017619640212705282
It didn't take long for a Twitter user to call upon Lush to seize the opportunity. The Twitter user wrote: "make a bath bomb that looks like this & call it god is a woman so i can bathe feeling like a goddess." Girl, same.
Grande caught wind of the idea and was all for it, too. The singer replied: "omg @lushcosmetics i'll do anything."
https://twitter.com/udfredirect/status/1018515209013661697
Let's make this happen, people! God — uh, we mean, Grande has spoken. 
The story doesn't end on Twitter either. Jack Constantine, the Lush product inventor and chief digital officer, took to Instagram to reveal that he was working on a prototype of the bath bomb. Grande shared the sneak peek on her Instagram Story and shared Constantine's prototype. She appropriately captioned the post: "oh my fuck."
Constantine also posted a video on Instagram showing the bath bomb being concocted. To our delight, Grande left a comment on the post that read: "i'm …….. freaking out." 
https://www.instagram.com/p/BlV0lo5HbYF
We are freaking out, too, tbh. A "God is a Woman" bath bomb from the bath bomb empire, Lush? Just take all our money.