Ariana Grande Opened Up About Keeping Her Natural Curly Hair Private
"So few people get to see it...it reminds me of me as a kid."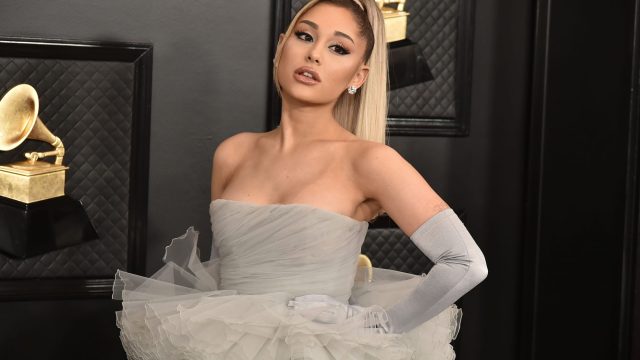 At this point, it should go without saying that most people's relationship to their hair is a deeply personal one. Ariana Grande—she of the famously fierce sky-high ponytail that has become her signature look—just opened up about why she views her ponytail as a "costume piece," revealing that she feels her natural curly hair is "so intimate."
Grande has a song on her new album, Positions, called "My Hair," and she opened up about what it means for her in a recent appearance on the Zac Sang Show. She shared that the red hair she rocked as Cat Valentine on Nickelodeon's Victorious and the brunette ponytail she switched to when her music career began taking off act as a type of "guard" for her.
"[Hair] definitely is [personal], especially when your hair kind of is something that you use to differentiate, you know what I mean?" she explained.
"It's kind of like the red was Cat, and that was very much a character, and it was very much a portion of my life that I love and I am so grateful for," Grande continued. "I look at it and I love it. I see red hair, and I think fondly of that [time], but it is not me."
Of her hair's natural curly texture, she said, "My real hair—which is the humongous, curly, curly poof—is kind of, I don't know…So few people get to see it, and it's cute, and it reminds me of me as a kid…it's who I am privately," she shared. "But so is this. I wear my ponytail all the time too, but the curls are definitely something that I don't bring around much."
With "My Hair," she opened up about what it's like for her boyfriend, Dalton Gomez, to see her hair in its natural glory. "I think that's kind of what I envisioned that song being about, is because it's such an intimate thing to be just like, 'curly shower head.' My boyfriend loves it. He's like, 'Curlies, yay!'"
She added, "It's like a very intimate thing…The hair for me is such a guard, character-façade type thing, and it's had its own evolution, but it has always been this kind of costume piece."
When asked whether she'd wear her natural hair more publicly, she said that she has a "hard time marrying it to the music," adding, "I have kind of created this persona…For now, I think it's a really nice private separation…To be a person who does what I do is a blessing, but it's also kind of weird, and I think there are times when I'm really grateful for that degree of separation."
Well, we fully support her, whatever look she decides to sport, and while we love getting a glimpse of her natural strands, we're also huge fans of the mile-long pony. Basically, we just love her hair no matter what vibe she's going for that day.