Ariana Grande and James Corden freaking out in a terrifying escape room is all you need today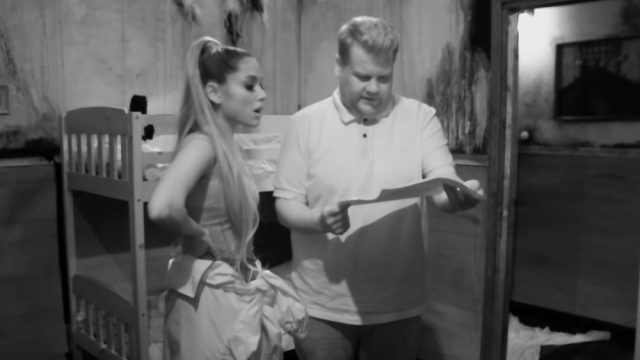 Halloween is finally here, which means there's no better time for thrills, chills, and ghost stories, and Ariana Grande and James Corden are among those getting into the holiday spirit. On the October 30th episode of The Late Late Show with James Corden, the host took his guest to a truly haunting escape room.
The video begins with Corden asking Grande about being "obsessed with Halloween" as they sit in the car (Billboard reports that the segment was filmed at the same time as a Carpool Karaoke segment earlier this year). Grande divulges that she loves being scared, which prompts Corden to ask how she feels about escape rooms.
"Usually escape rooms aren't that scary, but I do love escape rooms," Grande says.
Grande and Corden's escape room journey soon begins when they step into a dark, prison cell-like room.
"You told me this was an escape room, not Hell," Grande quips, visibly scared.
That's only the beginning. The scares keep coming—including a woman lunging at them from a bed and a man grabbing Grande's ankles. Screams and swears abound as Corden and Grande get progressively more creeped out. As the two are about to solve the final clue, Grande even falls and hurts her hand (don't worry, she's okay).
Honestly, this escape room is legitimately terrifying.
https://www.youtube.com/watch?v=0iy3HPxBFQY?feature=oembed
By the end, both Corden and Grande seem taken aback at how spooky their escape room experience was. "That was scarier than I ever thought it was gonna be," Corden admits. "I didn't know escape rooms were that dark. Are they normally like that?"
"I've been to 300 escape rooms," Grande responds. "That's not an escape room. That's one of the seven gates to Hell."
Happy Halloween.