Ariana Grande thanked fans for accepting her "humanness" in a heartfelt post about crying onstage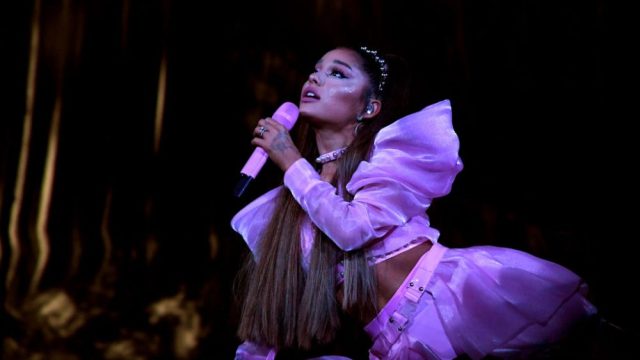 Although Ariana Grande has had an incredible couple of years career-wise, she has also endured a staggering amount of trauma and loss in that same time. Two years ago, a terrorist bombed the Manchester Arena during one of her performances, and in September 2018, her ex-boyfriend Mac Miller passed away. With everything that Grande has experienced, her Sweetener World Tour has been understandably emotional, and she has cried on stage several times, usually while singing about Miller. Recently, the pop star shared (and later deleted) a statement about the feelings that she is still processing.
Grande opened up in a since-deleted Instagram post, which several fans captured in screenshots. The "7 Rings" singer wrote, "Tour is wild. Life is wild," before saying she was grateful for everything she has experienced on the road and all the people who have helped her.
"I'm grateful for the opportunity to sing for thousands of people every night," she wrote. "It's a dream come true. No matter how hard it gets or how many feelings are screaming at me to be processed and sorted through one day, I'm grounded by gratitude and promise not to give up on what I've started. I feel everything very intensely and have committed to doing this tour at a time in my life when I'm still processing a lot...so sometimes I cry a lot! I thank you for accepting my humanness. I'm not sure what I did to meet so many loving souls every night / to feel so much love, but I want you to know that it really does carry me through. I feel it and I appreciate it. And all of you so much."
She continued:
"I'm sharing this because I'm grateful and because I want you to know that if you too are hurting, you can push through and are not alone. It is hard to balance taking care of the people around you, doing your job, and healing / taking care of yourself at the same time...but I want you to know you aren't alone and I think you're doing great."
https://twitter.com/udfredirect/status/1148009740074672130
Grande shared her statement after her July 7th performance, during which she got choked up while singing "R.E.M." Fans shared videos of the moment on Twitter, and many worried about her emotional and mental health.
https://twitter.com/udfredirect/status/1147734702721314821
At the end of the day, Grande is only human, and she deserves the space and time to process her emotions in a way that is comfortable for her. We hope she's finding time for herself, and we're sending so much love her way.