Ariana Grande's "God Is A Woman" dropped, and Twitter is losing its mind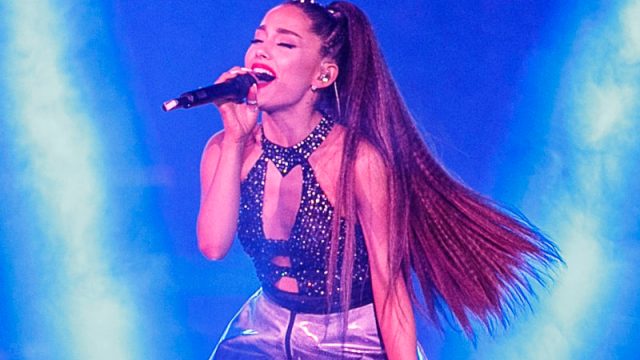 Let us pray. We now fully believe that God is a woman — and that woman is Ariana Grande. At midnight, July 13th, Grande dropped her latest single off her upcoming album Sweetener, due out August 17th. "God Is A Woman" has quickly become sacred among Grande fans and Twitter has come to worship.
On July 12th, Grande surprised fans by tweeting that "God Is A Woman" would drop in 24 hours. She then joined in on a countdown via Twitter and helped fans pass the time by answering their questions. And, of course, Grande did so while sneaking in a quick Harry Potter viewing before the drop-time (as one does).
"Jus want u to know how much i love n appreciate every one of u," Grande tweeted about an hour before dropping her song. "Thank u for the love u show me n joy u bring. i'll never be able to fully express my gratitude and you'll truly never know how much u actually mean to me. i cherish nights like this sm."
https://twitter.com/udfredirect/status/1017611531272556545
https://twitter.com/udfredirect/status/1017575441471811585
And Twitter is here for it.
false
Listen to "God Is A Woman" here:
https://www.youtube.com/watch?v=RQTgJRwMdKQ?feature=oembed
Here are the "God Is A Woman" lyrics for when you're ready to sing along, from Genius:
[Chorus]
You, you love it how I move you
You love it how I touch you
My one, when all is said and done
You'll believe God is a woman
And I, I feel it after midnight
A feelin' that you can't fight
My one, it lingers when we're done
You'll believe God is a woman
[Verse 1]
I don't wanna waste no time, yuh
You ain't got a one-track mind, yuh
Have it any way you like, yuh
And I can tell that you know I know how I want it
Ain't nobody else can relate
Boy, I like that you ain't afraid
Baby, lay me down and let's pray
I'm tellin' you the way I like it, how I want it
[Pre-Chorus]
And I can be all the things you told me not to be
When you try to come for me, I keep on flourishing
And he see the universe when I'm in company
It's all in me
[Chorus]
You, you love it how I move you
You love it how I touch you
My one, when all is said and done
You'll believe God is a woman
And I, I feel it after midnight
A feelin' that you can't fight
My one, it lingers when we're done
You'll believe God is a woman
[Verse 2]
I'll tell you all the things you should know
So, baby, take my hand, save your soul
We can make it last, take it slow, hmm
And I can tell that you know I know how I want it, yuh
But you different from the rest
And boy, if you confess, you might get blessed
See if you deserve what comes next
I'm tellin' you the way I like it, how I want it
[Pre-Chorus]
And I can be all the things you told me not to be
When you try to come for me, I keep on flourishing
And he see the universe when I'm in company
It's all in me
[Chorus]
You, you love it how I move you
You love it how I touch you
My one, when all is said and done
You'll believe God is a woman
And I, I feel it after midnight
A feelin' that you can't fight
My one, it lingers when we're done
You'll believe God is a woman
[Outro]
(God is a woman)
Yeah, yeah
(God is a woman, yeah)
My one
(One)
When all is said and done
You'll believe God is a woman
You'll believe God
(God is a woman)
Oh, yeah
(God is a woman, yeah)
(One)
It lingers when we're done
You'll believe God is a woman