Ariana Grande had this epic thing to say about celebrities and their privacy
Ariana Grande might be the queen of statement jackets, the ruler of pop, and a spin class enthusiast, but that's not all. No, the 23-year-old singer is also not afraid to speak her mind when it comes to things she feels passionate about, and will always call out someone and their behaviour.
Last year, the "Into You" singer expertly shut down these sexist interviewers after they asked her some crappy questions, and has also spoken about the importance of feminism, and sexism at magazine stands.
Now Ariana is broaching a different topic: celebrities, their relationships, and privacy.
Recently, Ari dropped by Ryan Seacrest's radio show to promote her latest single, the jaunty "Side By Side," which features Nicki Minaj, when she was asked about her relationship with rapper Mac Miller.
Directing a statement at the singer, Seacrest said, "So I saw you confirm this relationship with Mac Miller on Instagram," referring to the below picture that the star uploaded to her account.
Taken aback, Ariana responded the radio host's probing.
"Oh, is that what Instagram means to you now?" she quizzed him.
The pair then awkwardly battled back and forth, with Ariana questioning how Seacrest had jumped from Instagram to her confirming her romance with Miller, before stating that Seacrest hadn't actually asked her a question.
The radio host then did ask the singer whether she had confirmed her relationship by sharing the photo to which she replied, "I don't know, man. It's too early for this." 
Seacrest then said, "But if you post something, I mean, even in my life, if I post something then it becomes something."
Ariana was having none of it, however.
"If I post something then that's what I'm willing to share at the moment," she said tersely. "But it doesn't mean that you, Ryan Seacrest with millions of listeners, are entitled to more information."
Yes Ariana!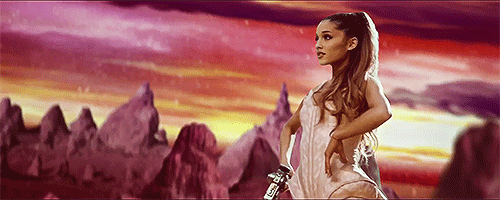 While the singer has confirmed her relationship with Mac Miller on Ellen, her disagreement with Ryan Seacrest shows how, even by posting a picture, people are quick to jump to conclusions about celebrities and their private lives, and the culture of  entitlement that goes with that.
Watch the full exchange between Ariana Grande and Ryan Seacrest below.
false